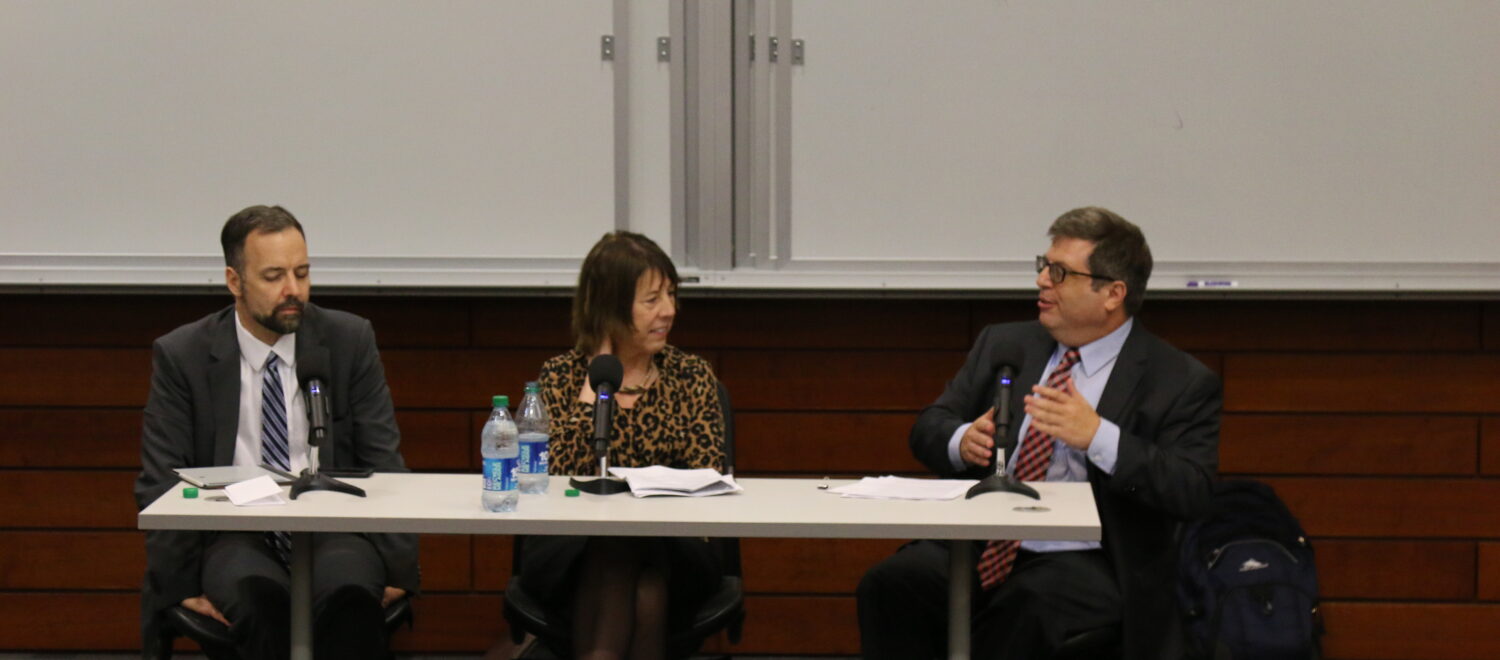 The Declaration of Independence Center for the Study of American Freedom in conjunction with the University of Mississippi School of Law hosted a Constitution Day panel on "Equality at the U.S. Supreme Court."
Constitution Day is recognized each year on Sept. 17 in commemoration of the day in 1787 that the delegates to the Constitutional Convention officially signed the U.S. Constitution in Philadelphia, Pennsylvania.
The panel featured nationally-renowned constitutional scholars and law professors David Bernstein and Gail Heriot, who discussed the recent decisions in five cases by the Supreme Court this term: Students for Fair Admissions v. Harvard, 303 Creative v. Elenis, Haaland v. Brackeen, Groff v. DeJoy, and Allen v. Milligan – all of which addressed issues of equality. The panel was moderated by Christopher Green, Ole Miss Law Professor and Jamie L. Whitten Chair in Law and Government.
"Gail Heriot and David Bernstein are two of the most well-known legal scholars in the country," said Steven Skultety, director of the DOISAF. "I'm thrilled that students, faculty, and members of the community got a chance to hear from them directly.  In particular, the way in which both thinkers were able to weave together history, social analysis, and constitutional interpretation was particularly impressive.  I'm sure it made an impact on all the students who attended."
Bernstein is a professor at George Mason University's Antonin Scalia Law School and serves as the executive director of its Liberty & Law Center. Through his books and articles, Bernstein challenges conventional wisdom with an analysis from an original perspective. Heriot is a professor at the University of San Diego School of Law and is currently a member of the U.S. Commission on Civil Rights.
"Law schools around the nation celebrate Constitution Day, recognizing its importance in the establishment of our rights and freedoms as Americans," said Frederick G. Slabach, UM Law dean. "This year, we were delighted to collaborate with the Declaration Center in hosting our panelists and Professor Green, who are three of the most prominent conservative constitutional scholars in the country. Their perspectives provide a unique insight into the recent landmark decisions by the Supreme Court."
The event was hosted at the law school last week, but the full video of the discussion is available here.