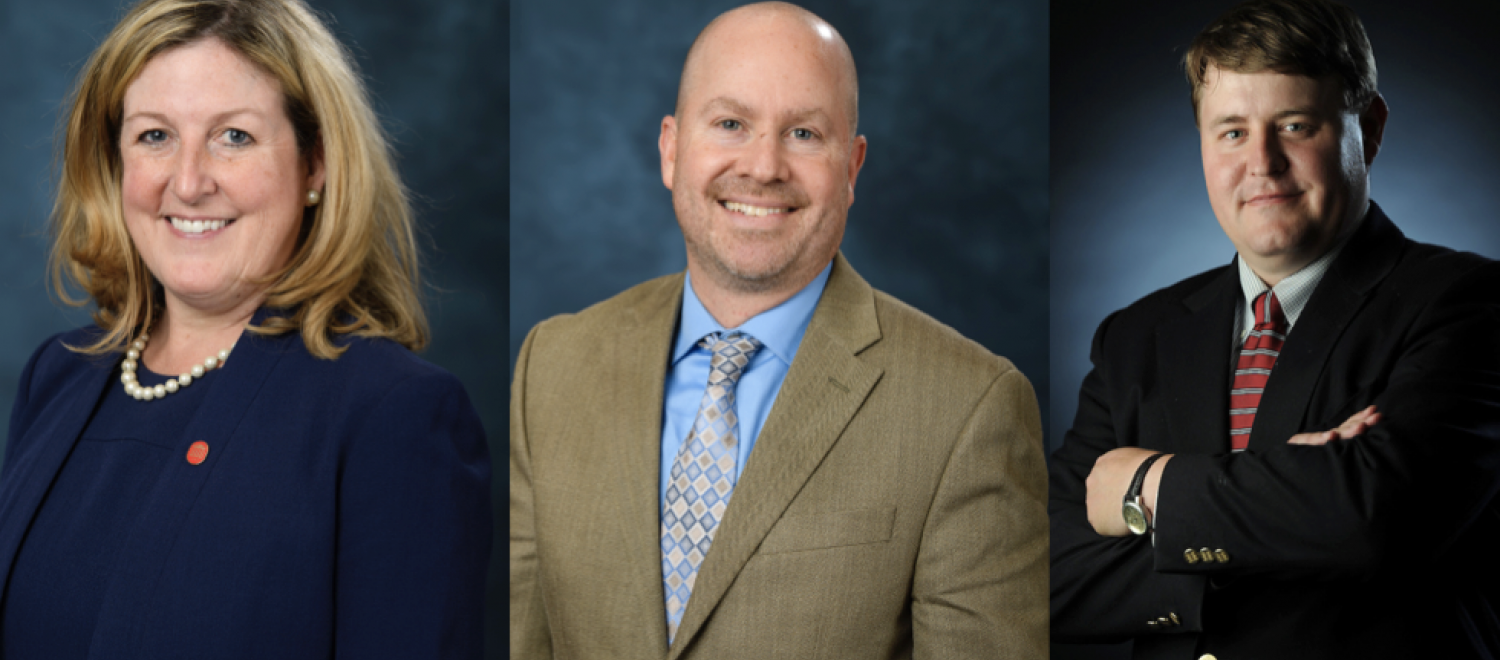 OXFORD, Miss. – Three University of Mississippi School of Law faculty members will serve in leadership positions this year with the Association of American Law Schools (AALS).
UM Law Dean Susan Duncan was elected to the executive committee for the section on law school deans. She is one of five members on this national committee. The section works to discuss issues that may be facing law school deans, including assessment, recruitment and bar passage rates.
Duncan, who is in her second academic year as dean of the UM School of Law, brings a unique perspective to the committee because of her path in legal education. Prior to her arrival at UM, Duncan served as interim dean at the University of Louisville Louis D. Brandeis School of Law for five years. She has also held nearly every type of faculty position over the last 24 years, from adjunct to tenure-track professor in the legal writing field.
"I think my unique background can benefit this particular group when we discuss issues that may be facing deans and faculty," Duncan said.
Her core values include community, reverence, service and leadership, all of which Duncan can put into practice in this national role through servant leadership.
"I ran for this position because I wanted to give back to current and future leaders of law schools," she said.
Developing strategic plans are one of Duncan's passions, which she said is something she has enjoyed in her previous national roles and is looking forward to engaging in with AALS.
"Strategic planning really energizes me, and it's been fun to do on the school level," she said. "It's only going to be more fun to do on a national level with talented colleagues from institutions across the country."
Ben Cooper, UM Law Senior Associate Dean, was elected chair of the section on Professional Responsibility. This section offers support for pedagogical and scholarly endeavors for legal scholars in the field of professional responsibility. Cooper specializes in legal ethics and the law governing lawyers, and he teaches courses including Legal Profession, Civil Procedure and an advanced seminar on Legal Ethics.
By becoming active in the Professional Responsibility section of AALS shortly after he arrived at UM Law in 2007, Cooper has been able to connect with colleagues in his field from other institutions.
"I initially became involved as a young professor, and that involvement allowed me to meet others who were more senior in my field," he said. "Through these relationships with colleagues, I got great mentoring on my teaching and scholarship, and eventually these relationships have also led to great opportunities that I otherwise would not have gotten, like writing a textbook and receiving invitations to speak across the country. This is an opportunity to give back."
Will Berry, Associate Professor of Law, was elected chair of the section on law and sports. Berry has been a member of the executive committee of the section for three years. He is excited about this opportunity to lead law school faculty who teach and write about the intersection of sports and law.
At this year's conference, the sports law section hosted a panel presentation on corruption in sports, in which Berry presented a paper on the recent felony convictions of Adidas executives paying college athletes. The 2020 conference will feature another program on a hot topic in sports law, where leading scholars on the subject will speak and discuss.
Berry's role as chair will also include increasing membership, choosing the section award and distributing the annual newsletter. As with many other AALS sections, this one provides an opportunity for colleagues to collaborate.
"More than anything, the section exists to help sports law faculty network, build relationships, share teaching and scholarly ideas and further career opportunities," Berry said. "For instance, the outgoing section chair and I are co-authors on the new edition of a leading sports law textbook."
In addition to building next year's conference for all AALS member schools, each section is tasked with duties throughout the year, including developing topics for discussions, creating webinars for faculty, awarding scholarships and distributing newsletters.
The UM School of Law is an institutional member of AALS, along with 178 other legal education institutions. Each year, the conference offers programming for specific areas of interest, which is particularly beneficial to faculty who may be the only expert in their practice area at their home institutions.
In addition to Duncan, Cooper and Berry serving in leadership roles with AALS, four other UM Law faculty members are on executive committees of AALS sections. Michele Alexandre, associate dean for faculty development and professor of law, is serving on the executive committee for the section on Sexual Orientation and Gender Identity Issues; Renee Cain, associate director of Continuing Legal Education at UM and assistant professor of legal studies, is serving on the executive committee for the administrative section on Continuing Legal Education; Richard Gershon, professor of law, is serving on the executive committee for the section on Socio-Economics; and Lisa S. Roy, professor of law, is serving on the executive committee for the section on Law and Religion.
The mission of AALS, along with its annual meeting, is to advance excellence in legal education through teaching, scholarship, academic freedom and diversity, while also improving the law profession and serving local communities. For more information about the organization, visit aals.org. To learn more about the UM School of Law, visit law.olemiss.edu.