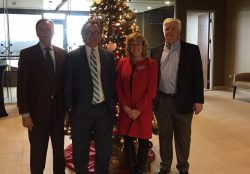 The UM Law Firm challenge is officially underway, and Adams and Reese LLP of Jackson is the first firm to reach 100 percent giving among alumni. William C. Brabec, a 1983 UM Law graduate, was elected as the team captain for this challenge and worked to encourage all of his alumni to participate. Brabec credits Dean Duncan for inspiring him to donate.
"Dean Duncan informed us of the importance of alumni giving in the law school evaluation process," said Brabec. "She said that only four percent of law school alumni give regularly to the school. Most of us had no idea that alumni giving was any factor in law school rankings."
The school hopes to triple that percentage by the end of this year's challenge on June 30, 2018. Private giving supports the school with vital scholarship and operational funds.
Along with his partner, Gee Ogletree, they completed the challenge in only five weeks.
"We quickly accepted Dean Duncan's challenge to us," said Ogletree. "We believe that fundraising will play an increasingly important role in the future of all law schools and we support Dean Duncan as she continues the law school's tradition of excellence and takes it to new heights."
According to Duncan, the UM Law Firm Challenge was created as a way to get alumni involved in giving to the law school.
"We are so proud of Adams and Reese for being the first firm to achieve 100 percent giving among alumni. They truly took the challenge to heart and did a great job quickly getting their alumni to support the initiative," said Duncan. "We hope that their success will encourage other firms to reach 100 percent."
Adams and Reese based their participation on their core values, which involve many factors including growth, respect, excellence, accountability, and teamwork. These values drove Brabec through the process.
"Our firm always encourages excellence and philanthropy," said Brabec. "Also, being a regional firm, with alumni from all over the Southeast, there is a lot of competitive spirit between the alumni of the various SEC schools."
Adams and Reese has set the bar for the other 19 Mississippi law firms. Firms that reach 100 percent giving participation receive a personalized trophy, recognition on the UM website and in the school's alumni newsletter.
To participate in the 2018 UM Law Firm Challenge, alumni may give to any UM Law fund by clicking here or by contacting Suzette Matthews at 662-915-1122 or suzette@olemiss.edu.