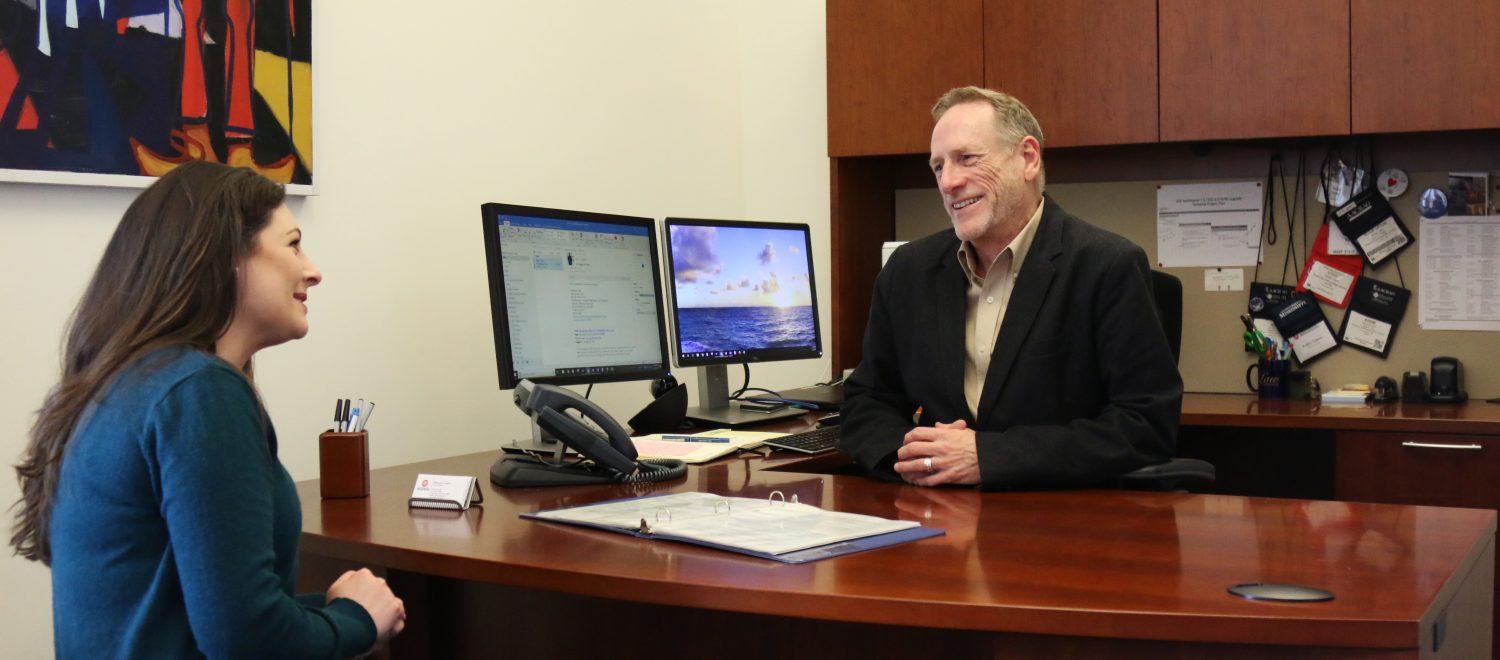 OXFORD, Miss. – University registrars work diligently behind the scenes to keep up with all student records. From setting student schedules to helping them stay on track with graduation requirements, the law registrar is dedicated to serving their students.
The University of Mississippi School of Law's registrar Eddie Upton will be honored for his dedication next month with the National Network of Law School Officers 2019 Vanguard Award.
The award recognizes the outstanding contributions of a law school officer who uses innovative methods in transforming academic services for students. More than that, the Vanguard Award recognizes outstanding leadership and effective administration. Upton has served as the law school's registrar for the last seven years. During that time, he designed a database to handle all reporting and processing requirements for students.
"As the law registrar, I work directly with students, faculty, staff, and administrators on a daily basis. I see first-hand how my efforts are appreciated and they make a difference," Upton said. "I believe that I'm exactly where I should be in my work life, and most days I feel that I have the best job on the planet. I am honored to receive this award, and it is confirmation that I'm on my correct path and that my efforts do mean something to our law school."
In addition to traditional registrar duties, Upton also handles bar certifications and reporting for law students, as well as annual student questionnaires and forms.
"Eddie genuinely cares about our students," said Susan Duncan, dean of the law school. "His door is always open and he is truly dedicated to serving our students."
Duncan nominated Upton for the award and noted that his attention to detail sets him apart from other law school officers.
"He has the burden of taking care of so many details, and he hardly ever lets any fall through the cracks," she said. "He thinks innovatively and improves the experience of all students, faculty and staff at the law school. In fact, I often encounter alumni who ask about him and tell me what a difference he made for them."
Third-year law student Brittney Eakins, from Kiln, has gotten to know Upton over the last three years through class registration and exam preparation.
"Eddie is the lifeline of this law school," Eakins said. "He works with students all day, every day and his door is always open to us. We are so grateful to have him."
Upton has been active in NNLSO since he began working at the law school in 2011. He served as NNLSO Regional Representative for the Southern District from 2012-2013 and served a term on the organization's executive board from April 2013 to December 2017.
Upton will accept his award at the American Association of Collegiate Registrars and Admissions Officers' annual meeting in Los Angeles March 31 – April 3.