The University of Mississippi School of Law mourns the passing of two distinguished alumni – Jack F. Dunbar (LL.B. 1957) and Raymond L. Brown (LL.B. 1962). Dunbar and Brown were supporters of Ole Miss Law and active members of the legal profession in Mississippi, both serving as President of the Mississippi Bar Association.
"Although I am new to the Mississippi legal community, it did not take me long to realize what legends both these men were. The law school is very proud of all their professional achievements and their commitment to public service throughout their lives," said Susan Duncan, dean of the law school. "Our hope is that all of our graduates give back to their profession and communities as these men did. Our thoughts and prayers go out to their families."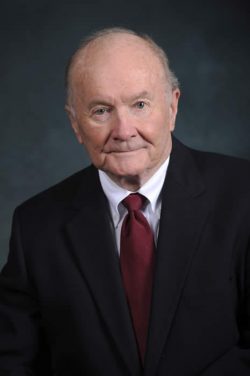 Dunbar, a native of Indianola, graduated valedictorian of the Law School and served as the President of the Law School Student Body and the Associate Editor of the Mississippi Law Journal. He later served as an adjunct professor of law in civil procedure and trial practice. In 2010, he was named Alumnus of the Year, and in 2011, he was inducted into the University of Mississippi School of Law Hall of Fame.
He began his law practice in Clarksdale with Sullivan Dunbar and Smith before moving to Oxford in 1978 and joining what is now known as Holcomb, Dunbar, Watts, Best, Masters and Golmon, P.A. Dunbar served on the Board of Governors of the American Bar Association and was awarded a Lifetime Achievement Award by the Mississippi Bar in 2010.
An active member of his community, he was named Oxford Citizen of the Year in 1990 for his work in the strategic plan for the community hospital. In 2012, the Oxford School District named Dunbar Citizen of the Year for efforts to help children in need of eye care. The Jack Dunbar Scholarship Fund has been set up in his memory at the University of Mississippi School of Law.
For Dunbar's full obituary, visit here.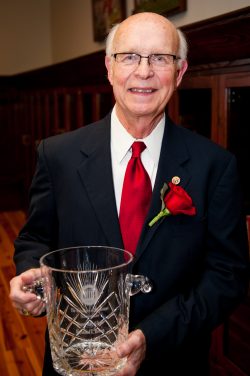 Brown, a native of Greenville, MS, played both football and baseball during his undergraduate years at Ole Miss. While earning his law degree, he played three years of professional football with the Baltimore Colts, attending, alternately, Ole Miss and Maryland law schools. During law school, he was inducted into Phi Delta Phi honorary fraternity and wrote for the law journal.
After graduating from law school, Brown clerked for Justice Tom Clark of the United States Supreme Court before returning home to practice in his home state. He served as President of the Ole Miss Alumni Association and President of the Ole Miss Law Alumni. Brown was inducted into the Ole Miss Alumni Hall of Fame, the University of Mississippi Law Alumni Hall of Fame, and the Ole Miss Athletic Hall of Fame. He was also recognized with Lifetime Achievement awards by both the Mississippi Bar and the Mississippi Defense Lawyers Association.
Brown was active in his community serving on many committees and organizations in Pascagoula. He served as attorney for the Pascagoula Municipal School District for thirty years. In 1964 he was named Young Man of the Year in Pascagoula. To honor his dedication to the University of Mississippi School of Law, friends and colleagues of Brown started the Raymond L. Brown Scholarship Endowment, a three-year academic scholarship to be awarded to an entering law student.
For Brown's full obituary, visit here.