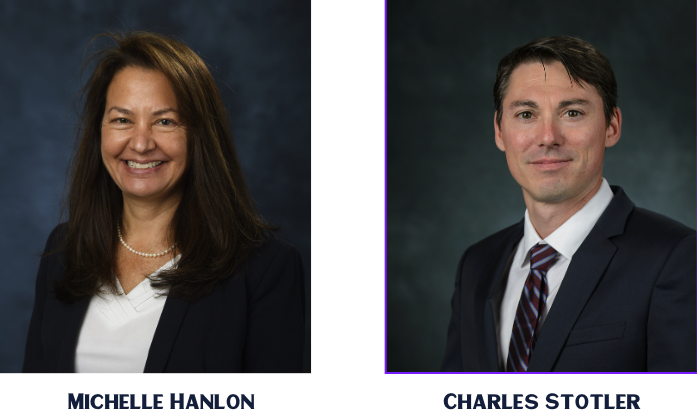 The University of Mississippi School of Law has promoted faculty members Michelle Hanlon and Charles Stotler as assistant professors of practice and elevated their leadership roles within the Center for Air and Space Law.  Hanlon, who was recently named to the Federal Aviation Administration's Human Spaceflight Safety Committee, will serve as the new executive director of the Center for Air and Space Law.
"Michelle is truly internationally recognized for her expertise in space law, and her advice is sought worldwide on the topic, which is rapidly evolving with emerging legal questions," said Frederick G. Slabach, the school's dean. "We are incredibly fortunate to have her at the helm of this cutting-edge program at UM law."
Stotler, who previously served as a co-director alongside Hanlon, will serve as director.
"Charles's expertise in aviation law continues to be a huge asset to our program and to discussions around the globe," Slabach said. "He and Michelle's contributions to their respective legal fields are unmatched.
"It's a true testament to the center and its expertise in air and space law that our professors and adjuncts are routinely contacted by international media and regularly called upon to advise national and international governmental and regulatory agencies."
Since Hanlon and Stotler joined the law school in 2018, applications for the competitive air and space law program increased nearly 2,000%. The center supports the only Juris Doctor air and space law concentration program in the world and offers an exclusive opportunity for select students to earn their J.D. and LL.M. simultaneously.
"I can attest that in the past few years we have seen, but not been surprised by, a growing interest in space and drone law in particular," Hanlon said. "It's remarkable when you consider that space law has been taught at the University of Mississippi for nearly 60 years. It's interesting to see other law schools around the world trying to catch up."
Besides her roles at the Ole Miss law school, Hanlon is co-founder and president of For All Moonkind Inc ., a nonprofit corporation focused on obtaining international legal recognition for and protection of human cultural heritage in outer space. In this capacity, she was instrumental in the development of the One Small Step Act in the United States, the first national legislation to acknowledge the existence of human heritage in outer space.
She is an adviser to The Hague Institute for Global Justice Off-World Approach project and also serves on the advisory committees of several space-related start-up organizations. Hanlon received the National Space Society Space Activist award in May and has also been named to two Federal Aviation Administration advisory and rulemaking committees addressing safety of human space flight.
Stotler teaches courses on air and space law and serves as faculty adviser for students participating in the air and space law moot court competitions. His research focuses on the effects of the fragmentation of international law on aerospace governance and on rule of law for outer space activities.
Besides his roles at the school, Stotler advises an array of clients on law, policy and regulatory issues, both independently and in support of the work of Aviation Advocacy, a Swiss-based consultancy. He focuses on activities and technologies that push policy and regulatory boundaries, such as unmanned aircraft systems and novel uses of space applications.
"It's exciting to see this tremendous growth," Stotler said. "Air and space law are in constant flux as new activities and new technologies test regulatory and legal frameworks. Our curriculum coalesces around fundamentals while embracing momentum."
Ole Miss is the only ABA-accredited law school to offer an LL.M. in Air and Space Law. The center also offers a graduate certificate for nonlawyer professionals working in air and space industries and is home to legal journals, including the world-renowned Journal of Space Law and the Journal of Drone Law and Policy, both of which are digitally available at no cost.
"The human experience is undergoing a dramatic transformation," Hanlon said. "We are sending people back to the moon and contemplating autonomous drone taxis to ferry us around urban areas.
"Lawyers need to embrace adaptability and use all tools available to us to address situations that have never come up before. We challenge our students to advance the law, not just apply it."
To learn more, visit https://airandspacelaw.olemiss.edu/.