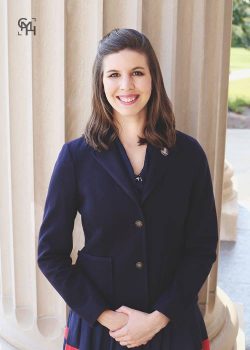 OXFORD, Miss. – A University of Mississippi law student will spend the fall semester in Brussels, Belgium developing her expertise on international law and policy.
Anne Karen Tolbert, a second-year law student at the UM School of Law, has been selected to intern with the U.S. Department of State at U.S. Mission to NATO in Brussels, Belgium.
"Being selected for this internship is a dream come true for me, but what has meant the most is the tremendous support I have received and the opportunity to represent Ole Miss Law on an international level," Tolbert said.
Tolbert, a Rogers, Arkansas native now residing in Oxford, will intern in the political section of the U.S. Mission to NATO. The project areas will cover international security issues such as NATO-EU cooperation, NATO operations in Afghanistan and Iraq, counterterrorism, crisis management exercises and NATO-Russia relations.
An internship with the Department of State is a great way to get a foot in the door for civil service, so this is something I wanted and needed to pursue."
Her interest in USNATO stemmed from the vital role it plays in international security. Tolbert is pursuing a law degree with a concentration on air and space law, and this opportunity will allow her to gain international knowledge and experience on defense issues.
"I hope to gain a deeper understanding and broader perspective on how foreign policy and international law work together to address current and emerging geo-political challenges," she said. "It's a very interesting time to be at USNATO and I look forward to developing subject matter expertise on the various issues I will handle."
Tolbert credits this opportunity to the support she received from classmates and law faculty.
"For someone who believes in shaking hands with opportunity, I don't always heed my own advice," she said. "I almost didn't apply because I was thinking of all the reasons why I wouldn't be chosen instead of thinking of all the reasons why I might be a good fit with USNATO."
A few months after submitting her application, she received an email offering her an interview.
"We are always encouraging our students to explore the multitude of options that a legal education provides," Ben Cooper, senior associate dean for academic affairs, said. "We were happy to support AK in pursuing this terrific opportunity, and I really appreciate the initiative that she took in seeking out this position and then following through to obtain it.  She is going to have a great experience."
During the selection process, the hiring committee mentioned that her air and space law concentration at UM played a role in her selection.
"I think it's easy to sell ourselves short sometimes, but in reality, we all have unique backgrounds, skills, and gifts that make us competitive with the brightest from across the country," Tolbert said. "I am incredibly honored for the opportunity to serve and represent my country, Ole Miss Law, and to work with our valued NATO allies."
Tolbert, who earned a degree in communications from Belhaven University in 2013, credits her dad for fostering her lifelong interest in aerospace and defense
"It was always a dream of mine to serve in the Air Force. I had a spinal fusion for scoliosis in high school, which disqualified me for service, but there was always a part of me that wanted to serve my country," she said.
She worked a few years in the communications field, but continued to feel like she wanted to do more.
"My passion for legal and policy related work led me to apply to law school," she said. "Ole Miss became my first choice because of the air and space concentration, which I thought would open doors to civil service within the defense realm, and that's exactly what it did."
Upon graduation from law school, Tolbert hopes to ultimately become an attorney advisor to with the Department of State, offering counsel on international legal and policy issues. .