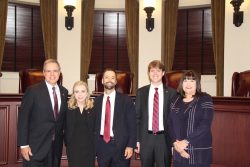 The University of Mississippi School of Law recently participated in the Bicentennial Celebration of Mississippi's judiciary and legal profession Wednesday, September 27, in Jackson, Mississippi. As part of the event, Ole Miss Law students, James Blake Kelly and Meredith Pohl, coached by Professor Chris Green, competed against Mississippi College School of Law students in a moot court competition and won.
According to Professor Green, the competition featured the largest panel of chief justices and chief judges in our state's 200 years.
"It was a huge honor to be able to work with students as hard-working, bright, creative, and with such appellate-litigation talent as Meredith and James," Green said.
Chief Justice of the United States John G. Roberts, Jr. presided over the competition and watched as Ole Miss students successfully defended the convicted plaintiff in the fictional "Millstone v. United States" case by proving that a man was falsely convicted of criminal negligence.
"The opportunity to argue a case before such a distinguished panel of judges was incredible," said Kelly. "They asked very challenging questions which required us to think about and respond to a broad range of issues."
Pohl believes that her moot court experiences have prepared her for a future career in appellate litigation.
"Appellate litigation is my chosen career path, and to have this kind of experience at 23 years of age is more than I could ever have dreamed," she said.
The competition can be viewed online at https://livestream.com/supremecourtofms/Bicentennial-MootCourt. For more information on the Bicentennial Event, visit http://oldlawschool.devclients.com/um-law-school-participates-in-bicentennial-event/.