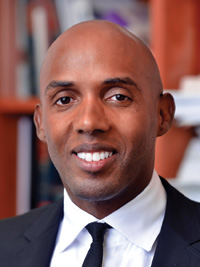 Oxford, Miss. —The 2017 McClure Lecture will be presented by Professor Devon Carbado on March 30, 2017 at 4:15 p.m. in Weems Auditorium (Room 1078) at the Law School.
Professor Carbado's lecture is entitled "Contemporary Problems in Race and the Law." He is the Honorable Harry Pregerson Professor of Law and Associate Vice chancellor of BruinX for Equity, Diversity and Inclusion at UCLA School of Law. Carbado writes about employment discrimination, criminal procedure, constitutional law and identity. In addition to writing, he teaches courses on Constitutional Criminal Procedure, Constitutional Law, Critical Race Theory and Criminal Adjudication.
This lecture is part of a memorial lecture series honoring James McClure, Jr. (LL.B 1953). The James McClure Memorial Lecture Series was established by his children to honor his legacy at the University of Mississippi School of Law. In the past years, the series has featured many high-profile speakers, including, Justices Sandra Day O'Connor and Antonin Scalia of the U.S. Supreme Court.
A reception in the atrium will follow the lecture.
For more information please contact Professor Michele Alexandre, email: malexand@olemiss.edu