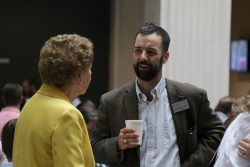 OXFORD, Miss. – On Sept. 17, 231 years ago, delegates who had been meeting in Philadelphia that summer made their work public, signing the U.S. Constitution and proposing it for ratification by "We the People."
The University of Mississippi School of Law will celebrate that triumphant day by hosting a Constitution Day commemoration Sept. 17 in the Robert C. Khayat Law Center. The 12:30 event in Weems Auditorium is free and open to the public.
This year, the celebration will feature a debate between UM associate professor of law Christopher Green and Georgia State University law professor Eric Segall titled "What is Originalism, and Is It a Good Idea?" They will discuss how the Constitution should be interpreted today.
"We are proud to host the annual commemoration of this foundational moment in our history," said Michele Alexandre, the school's associate dean for faculty development and intellectual life. "Professor Green and Segall are two dynamic scholars in the field with divergent views on the constitution.
"Their conversation will provide valuable food for thought and useful information to the audience."
The event is sponsored by the Boyce Holleman Debate Series.
"It's not surprising that Congress has told all of the universities in the country to set aside some time thinking about the Constitution every Sept. 17," Green said. "Developing views about the Constitution, however tentative or incomplete, is an important obligation of everyone in the country.
"Love it or hate it, no matter what you think the Constitution is, no one should just be apathetic about it."
The Constitution should not be left solely to the experts, Green said, who invites everyone to hear the debate in person.
"Anyone who grows up in places governed by the Constitution really ought to start thinking about it shortly after they learn to read," he said.
Green joined the Ole Miss faculty in 2006. He is a graduate of Princeton University, Yale Law School and earned his doctorate in philosophy from the University of Notre Dame.
He clerked for UM law school alumnus Judge Rhesa H. Barksdale on the U.S. Court of Appeals for the Fifth Circuit. Green also is author "Equal Citizenship, Civil Rights, and the Constitution: The Original Sense of the Privileges or Immunities Clause" (Routledge, 2015).
Segall has taught at Georgia State University since 1991. A graduate of Emory University and the Vanderbilt University Law School, he clerked for U.S. District Court and U.S. Circuit Court judges Charles Moye Jr. and Albert J. Henderson in Georgia.
He also wrote "Supreme Myths: Why the Supreme Court Is Not a Court and Its Justices are Not Judges" (Praeger, 2012).
Green and Segall also have both authored numerous articles and essays on constitutional theory.
"It's exciting to be able to have a debate with someone like Eric Segall so soon after school begins," Green said. "Eric and I have been Twitter 'frenemies' for several years, so it will be fun to translate our battles in that medium into a more formal debate, even though we disagree about nearly everything."
For more information about the event, contact Alexandre at malexandre@olemiss.edu or operations assistant Carroll Moore at carrollm@olemiss.edu.