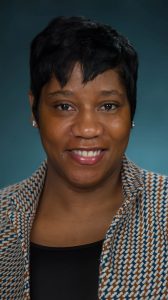 The University of Mississippi has appointed Erica McKinley (JD 1998) as general counsel. McKinley, former chief operating officer for the National Basketball Players Association, is an attorney with nearly 20 years of global legal experience in the private and public sector.
As general counsel, McKinley will serve as the university's chief legal officer. She will report to Chancellor Jeffrey S. Vitter and provide advice and counsel on a wide array of matters including governance, research, athletics, student affairs and finance. McKinley also will coordinate with the University of Mississippi Medical Center on legal matters, working closely with its general counsel. She will be a member of the chancellor's senior leadership team.
McKinley is a trusted adviser with outstanding judgment and a distinguished background, Vitter said. Before her work in professional basketball with the NBPA, she was associate general counsel for Wal-Mart Stores Inc.
Previously, McKinley was an assistant attorney general in the D.C. Office of the Attorney General, where she served as chief of general litigation. She was later appointed general counsel for the D.C. Department of Human Resources. Early in her career, McKinley practiced commercial litigation and white collar criminal defense with two D.C. firms, Arnold & Porter and Akin Gump.
"I am honored to support the University of Mississippi as it continues its unprecedented growth in higher education, research and health care," McKinley said. "I've come home to Oxford with an immediate sense of pride, purpose and responsibility.
An Ole Miss alumna from Jackson, McKinley earned a law degree from the UM School of Law in 1998, graduating summa cum laude and salutatorian. After law school, she completed a clerkship with Judge E. Grady Jolly on the 5th U.S. Circuit Court of Appeals. McKinley also holds a bachelor's degree in English from Tougaloo College.
"We are extremely pleased to have an accomplished leader with such vast experience," Vitter said. "Ms. McKinley is a highly-respected attorney with exceptional legal experience in corporate, government and private practice. We are thrilled to welcome Erica back to Ole Miss."
McKinley will relocate from New York to Oxford and assume the role of general counsel on June 22.