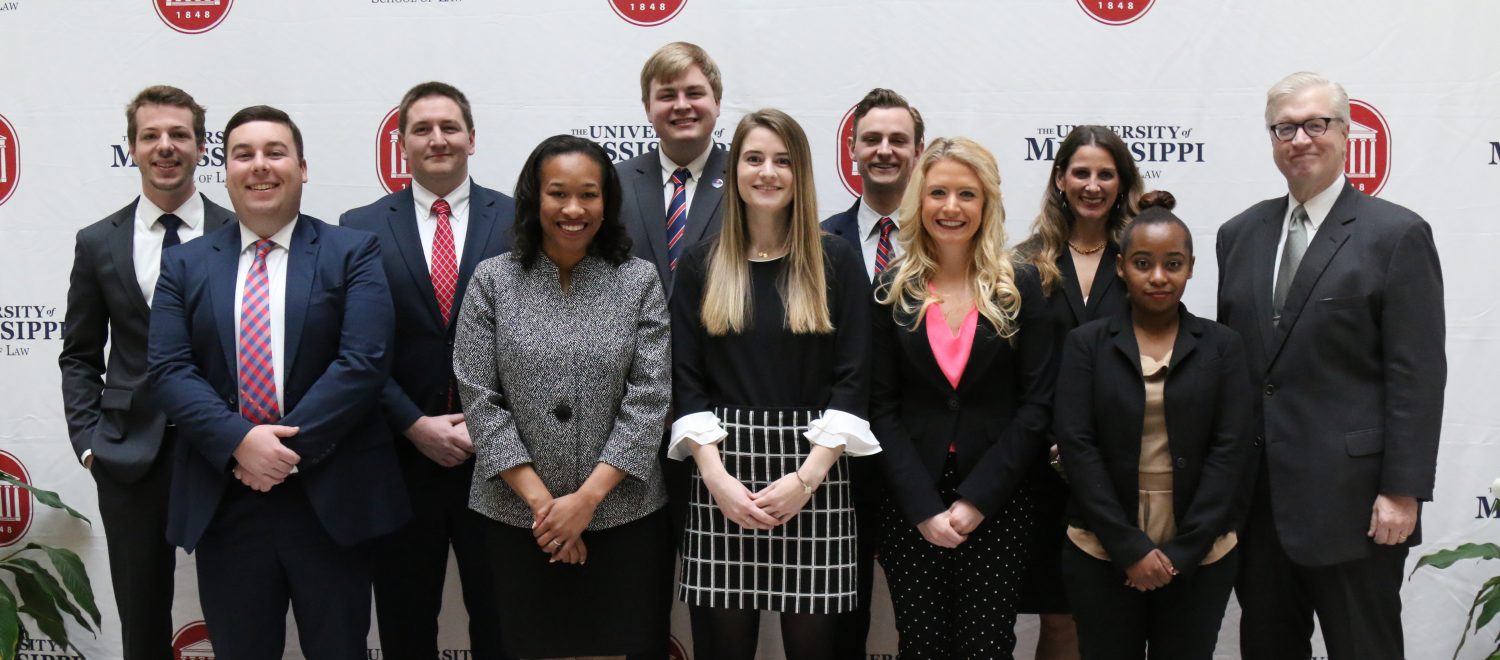 OXFORD, Miss. – This summer, 10 first-year University of Mississippi law students have a rare opportunity to work in the general counsel offices and other departments of some of the nation's leading companies.
The School of Law is launching its Business Law Fellowship program this summer in partnership with FedEx, C Spire, Sanderson Farms, Ingalls Shipbuilding, Yates Construction, Pfizer, Entergy Mississippi and other companies.
These placements will introduce students to the day-to-day operations and responsibilities of a general counsel for a major corporation and allow them to develop an understanding of business law concepts and skills through hands-on experience.
"Most students have little experience in what it means to practice corporate law," said John Czarnetzky, professor of law and the school's Mitchell, McNutt and Sams Lecturer. "This is such a fabulous opportunity for our students interested in corporations work.
"Our corporate partners are all in and want to work with us, and we're so grateful to them for providing this opportunity for our students to gain experience and learn how to be a lawyer, which is what we're here to provide for them."
The fellowship is part of the school's Business Law program within the Business Law Institute. National Jurist has consistently named the program among the country's best the last three years.
Last year, several students participated in the pilot launch as fellows, but this is the first full year of the formal fellowship, which takes the already-prestigious business law program to new heights.
Ten fellows with a GPA above 3.0 and proficiency in legal writing were chosen among dozens of applicants from a first-year class of 145 students. The process also involved a written essay and an interview.
Students were then placed according to which corporation closely matched the interests of both the fellow and company.
To prepare for the opportunity, fellows are enrolled in the Czarnetzky's upper-level corporations course this spring.
Mercer Bullard, professor of law and Butler Snow Lecturer, founded the Business Law Institute in 2014 and had the vision that students would gain practical experience with corporations.
Dean Susan Duncan supported the idea and, upon her arrival to the school in 2017, helped develop partnerships with corporations to bring Bullard's vision to life.
"Many of the general counsels in these companies are eager to work with students and mentor them," Duncan said. "This program will greatly benefit both our students and our law school, and we are so excited about partnering with the nation's leading companies to make that happen.
"The program is unique because it allows our students to be exposed to alternative careers that are J.D. preferred," she said. "The primary work of many law school graduates in business is not to practice law, but they certainly benefit from a law degree as one of the many tools in their toolbox."
The inaugural fellows are: Briaunna Buckner, of Detroit; Joshua Crownover, from Satsuma, Alabama; Charity Karanja, from Nairobi, Kenya; Jennifer Lee of Lockport, Illinois; Joseph McDaniel, of Memphis, Tennessee; Taylor Sandroni, of Winchester, Virginia; Sara Schofield, of Gainesville, Georgia; Jordan Thomas, from Grenada; Connor Whitten, of Madison; and Eric Watts, of Pearl.
"C Spire is participating in the Business Law Fellowship placement program to give promising law students with an interest in business an opportunity to learn more about what we do and how they can apply their legal education in the business world," said Chuck McBride, the company's senior vice president and general counsel. "We think it's a wonderful opportunity for both C Spire and the students who participate."
Students who participated in the pilot placement benefitted immediately from their experience. Third-year law student Roy Smith was placed last summer in the FedEx labor relations department.
"It was a great experience," Smith said. "I am from Memphis and dream of working as in-house counsel, so working at FedEx was inspiring. I learned a ton of valuable information that will be helpful as an attorney and a professional in general.
For the fellows, the education does not stop with the corporate placement. During their second year of law school, fellows will enroll in a course designed specifically for business law writing. In their third year, they will select experiential learning opportunities such as clinical programs, externships and simulation classes created for business law.
Throughout their legal education, students also hear from general counsels of corporations through guest lectures and networking opportunities.
For more information about the fellowship, visit https://law.olemiss.edu/.