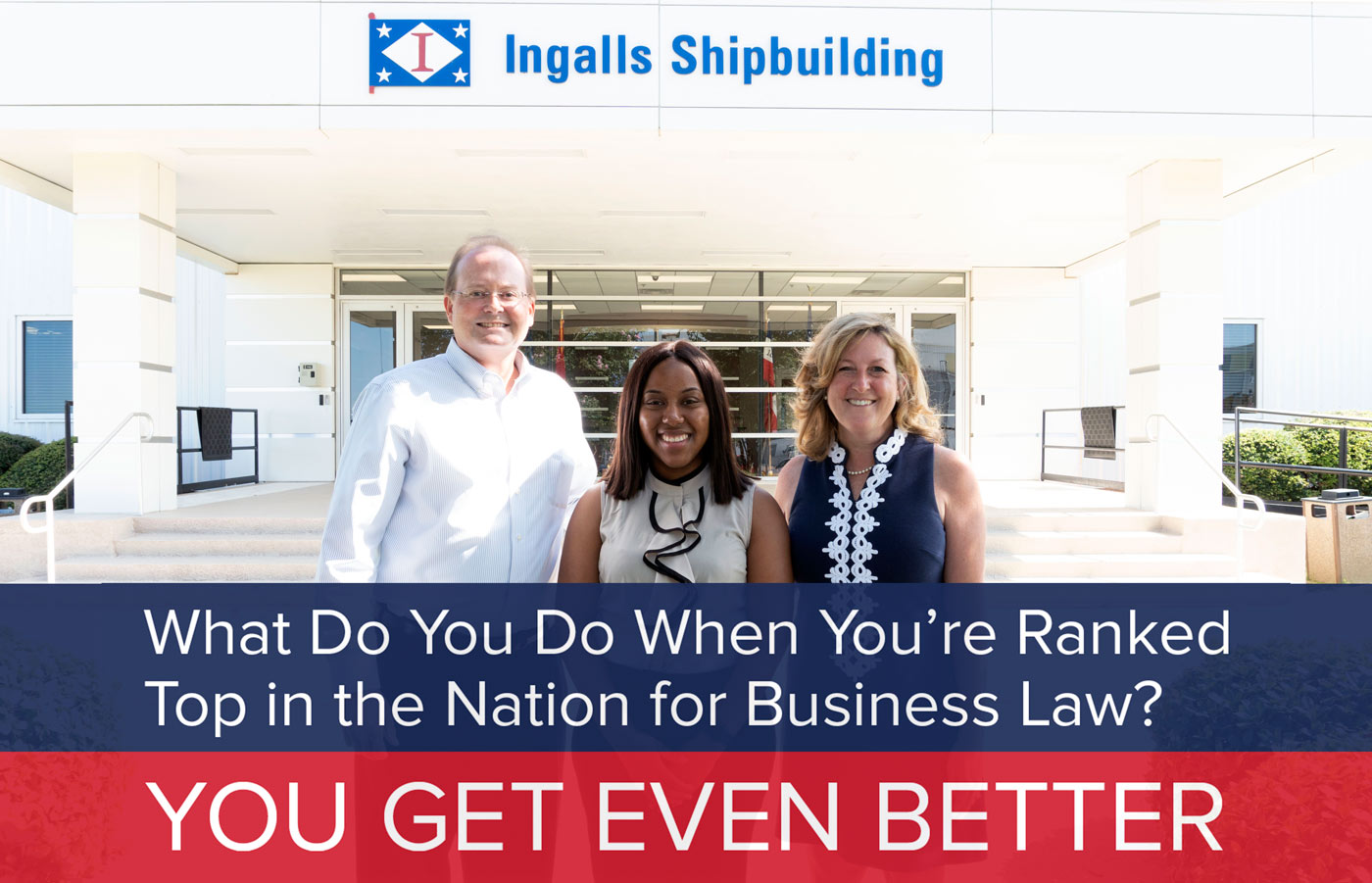 The law school's Business Law Program is consistently recognized as one of the top business law programs in the country. In 2017, the program was ranked in the top six Business, Banking & Corporate programs nationally, following up on its 2016 ranking in the nation's top four Business & Corporate programs.
The Business Law Institute's mission is to train great business lawyers. The Institute has leveraged the Law School's most valuable asset – an expert faculty committed to teaching – by placing the faculty's top business law experts in a shared office space with students. The close proximity of faculty and students facilitates continuous access and close student-faculty collaboration and engagement. This novel educational model maximizes the fluid transfer of knowledge and experience between teachers and students that animates deep, active learning.
The Institute's generous office and meeting space houses not only the Law School's top business law experts, but also the organizations that form the backbone of the Law School's student-run experiential programs in business law. The Negotiation Board, Business Law Network and Tax Clinic offer negotiation competitions, professional outreach, and real-world practice opportunities that develop students' business law skills through hands-on activities and practice. These groups give students the confidence and experience they need to compete in an increasingly competitive marketplace. The Business Law Certificate, which is awarded by the Law School for completing a core set of business law classes, corroborates a student's strong commitment to this practice area.
No other law school offers the Business Law Institute's combination of full student-faculty engagement and a wholistic approach to training lawyers. The Institute expects its new educational model to be come the industry standard for training great business lawyers.
Fellowship Placement Program
The new Business Law Fellowship takes our top-ranked business law program to a new level. The law school selects high-achieving first-year students to participate in an exclusive seminar series taught by in-house practitioners and then places them in summer positions with some of America's leading companies, where Fellows are ideally positioned to learn to solve both legal as well as business problems. In their second year, Fellows take a professional business law writing class specifically designed for the Fellowship. As third years, all Fellows are offered a menu of exclusive, 1-credit experiential classes that have been crafted to fine tune their skills and make them practice-ready for a successful business law career.


Sample of Participating Companies
The Business Law Fellowship provides highly qualified students with an extraordinary opportunity to work in-house in the summer following the first year. These placements will introduce Fellows to the regular course of a practitioner's responsibilities and assigned substantive business legal work that supports the employer and also develops a greater understanding of business law concepts and skills. Placement Employers may have a preference as to first-half, second-half, or full term
---
C Spire is participating in the Business Law Fellowship placement program to give promising law students with an interest in business an opportunity to learn more about what we do and how they can apply their legal education in the business world. We think it is a wonderful opportunity for both C Spire and the students who participate."
–Chuck McBride, Sr. Vice President & General Counsel, C Spire
---
Selection Process
Students selected will:
Meet a minimum GPA requirement of 3.0 or above;
Demonstrate profciency in a stand-alone closed universe writing assignment;
Participate in interview process with BLI Faculty with input from corporate partners.
Curriculum
Corporations Class: 1L Spring
Employer Led Seminars: In the second 1L term, Fellows will prepare for their summer placements by participating in exclusive, employer-led seminars. Seminar leaders will create fact-based business law problems for students to develop solutions, which will provide the basis of a practice-oriented, problem-solving discussion.
Business Law Writing: In their 2L year, Fellows will enroll in a specially designed Professional Business Law Writing class that trains them to identify, analyze and write clearly and concisely about new developments in business law. The writing exercises will take the form of a series of 1,000- to 2,000-word analyses, each of which will be subject to intensive review by senior business law faculty members and expected to be of publishable quality.
Intensive Skills Training: In their 3L year, Fellows will select from a menu of experiential learning opportunities (simulation classes, externships, and clinics) to develops skills in the following areas:

Creating and Protecting Ideas
Air and Space Law
Internet and Cybersecurity Law
Sports and Entertainment Law
Drafting Deal Documents
Mergers and Acquisitions
---
"In the business law program, I have developed practical skills in contract drafting and business and financial planning. In collaboration with the business law faculty and industry employers, I have had the opportunity to pursue my substantive interests in the classroom and the work place."
– Kirkwood Palmer, 3L
---