Vangela Wade (JD 1996)
Founding Member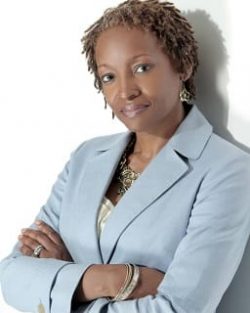 "When Professor Bell called me and invited me to come to the interest meeting for the Bessie Young Council, I went because when Professor Bell calls, you answer," joked Vangela Wade (JD 1996). "Once I realized what the Bessie Young Council was all about, I realized that who we are trying to help, that was me in law school."
Vangela Wade began law school in 1993 as a single mother. She left her job in Atlanta to seek a better life for her son, Ryan, and herself. At the age of 33, she was one of the older students in her class.
Just before she began her first semester, Vangela had her yearly checkup, and the doctor discovered a lump in her breast.
"I had just quit my job and made the decision to start law school. The plan was for me to go to law school, and as far as I was concerned, nothing was going to deter that," she said.
She made the decision to postpone having a biopsy. During her three years of law school, she continued regular health exams, but refused to get a biopsy until she was finished with school.
"I remember the last visit to the campus doctor who told me that I should really get the lump checked out, and I said 'not until I finish,'" she said. "I just kept praying 'Lord, take care of me,' and he did."
In addition to stressful health issues, Vangela dealt with the financial burdens of being a single parent in school as well as the isolation of being a non-traditional student.
"Living on student loans, there weren't a lot of extras, but we made it through," said Vangela. "It would've been nice having someone who was more in line with my situation in life, being older than most of my classmates, that would've been a great help to me."
Vangela graduated from UM Law in 1996 and began working as a Law Clerk for Judge Leslie D. King, of the Mississippi Court of Appeals. Once she began working, she finally got the biopsy so many doctors had encouraged her to get. The tumor was malignant, and after surgery, chemotherapy, and radiation, she is now 21 years cancer-free.
Vangela decided to get involved with the Bessie Young Council to help students who were like her in law school.
"If we had had what we intend to do with BYC, I would've had more financial support, which would've made thing easier, and maybe even mentors for support," she said. "Students in law school, whether they are trying to make better lives for themselves and decide law school is a way to start over, or if it's something they've always wanted to do, they need support. I think the mission of BYC is a great way to offer support."
Vangela's husband Thandy is also a 1996 graduate of UM Law. After completing chemotherapy and radiation, they had twins in 2000.
"Our experience in law school has enabled us both to be where we are today," she said.
Vangela is an attorney with The Wade Firm, PLLC. She practices in the area of uncontested Family Law, Wills and Estates, and Life Planning. She is a native of Verona, MS and a 1979 graduate of Tupelo High School.
In addition to Vangela's legal practice, she also provides consulting and training diversity and cultural competency as well as fair employment practices to corporations, governmental agencies, education and health care institutions, nonprofit organizations and coaching to individuals. She has extensive education and experience in the areas of diversity management and cross-cultural communications.
Vangela is a member of the National Academy of Elder Law Attorneys; American Bar Association, Mississippi, Magnolia Bar Association, Capital Area Bar Association, and Madison County Bar Association. In June 2011, she completed a three-year term as the Minority-at-Large member of the Mississippi Bar Association Board of Bar Commissioners. In 2011, Vangela served as Mississippi Volunteer Lawyers Project's (MVLP) Feinberg Grant Coordinator and Counsel assisting low-income people having losses due to the 2010 Gulf oil spill. Mississippi Volunteer Lawyers Project awarded Vangela its Pro Bono Volunteer Award in October 2011 for exceptional service in Family Law matters to low-income persons. Vangela serves on the Board of Trustees for St. Andrew's Episcopal School, in Ridgeland, MS. She is also on the Board of Directors for the Center for Ministry, at Millsaps College, in Jackson, MS. Vangela's past activities and service include Leadership Jackson Alumni Association, Class of 1999-2000; (Inaugural Member) Mississippi Supreme Court Task Force on Gender Fairness, 1998 to 2009; Top 40 Under 40, 2000; American Bar Association Section of Labor and Employment Law's Law School Student Outreach Coordinator, 2002-2008; and Board of Directors of Operation Shoestring, Jackson, MS.