The Roderick and Solange MacArthur Justice Center opened in the fall semester of 2014. The Center advocates for human rights and social justice through litigation, focusing on issues such as police misconduct, unlawful bail and fine collection practices that result in incarceration of poor Mississippians, conditions of confinement, and juvenile justice. Students participate in all aspects of the Center's litigation, including case selection, witness interviews, research, discovery, and assistance at trials.
View the MacArthur Justice Center website to learn more about the center.
Faculty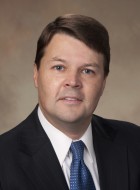 The MacArthur Justice Clinic provides students with an opportunity to work alongside experienced litigators as part of a public interest law firm actively engaged in the pursuit of social justice and the defense of human rights.  The Clinic is rigorous, but the rewards are great.  Students will be provided opportunities to participate in case selection, interview clients and witnesses, conduct research, draft pleadings, present oral arguments at hearings, and possibly even participate in trials.  Only those students interested in speaking truth to power, even when it is uncomfortable or unpopular, need apply.
Cliff Johnson, Clinical Professor of Law and Director, MacArthur Justice Center