Herb Dewees
posthumously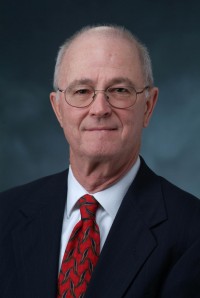 A native of Meridian, the late Herb Dewees received a B.A. degree in 1965 and a J.D. degree in 1968 from the University of Mississippi.  As a law student he was a member of the Delta Theta Phi honor society.  His career with the University of Mississippi began in 1976 when he joined the Alumni Affairs staff at the Medical Center in Jackson .  A little more than a year later, he moved to the Oxford campus to work with various alumni chapters; chief among them, the Law Alumni Chapter.  It was his idea to create an "order" for each alumni chapter that promotes and recognizes an increased level of financial commitment.  Dewees is responsible for creating and naming the Lamar Order, which remains an incredibly valuable resource for the law school.
He was appointed executive director of the Alumni Association in 1990 and served in that capacity for 14 years until his retirement.  Under his direction, the alumni center underwent a major renovation, the association celebrated its 150th anniversary and nationally broadcast its first alumni meeting live via satellite from the Oxford campus.
Dewees received the Law Alumnus of the Year Award in 1990 and the Algernon Sydney Sullivan Award in 2004 for exhibiting the character, humanitarian and spiritual qualities evident in the life of Sullivan, a Southerner who became a prominent 19th century lawyer, businessman and philanthropist.  In recognition of his commitment to providing scholarships to Ole Miss students, the Alumni Association's board of directors voted in 2007 to name its scholarship fund the Herbert E. Dewees, Jr. Alumni Association Lineal Descendant Scholarship Endowment.  A year later he was inducted posthumously into the University of Mississippi Alumni Hall of Fame.
Trent Lott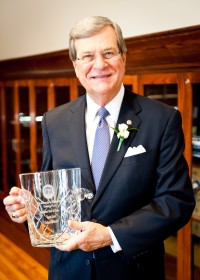 Born in Grenada and raised in Pascagoula, Trent Lott received his B.P.A. in Political Science in 1963 and J.D. in 1967, both from the University of Mississippi.  As an undergraduate, Lott was president of Sigma Nu fraternity, an Ole Miss cheerleader, a member of the Daily Mississippian staff, a concert singer and a member of the national leadership honor society Omicron Delta Kappa.  In law school, Sen. Lott was a member of the Phi Alpha Delta law fraternity.  In 1963 he was selected as a member of the university's Student Hall of Fame.  The Alumni Association honored him in 2010 by inducting him as a member of the Alumni Hall of Fame.
He was elected to the U.S. House of Representatives in 1972 where he served for 16 years.  From 1981 to 1989, Lott became the second-ranking Republican in the House when he was chosen to serve as House Minority Whip.  In 1988 he was elected to the U.S. Senate, and remained in office until his retirement in 2007.  In 1995, Sen. Lott became the Senate Majority Whip and then the Senate's 16th Majority Leader in 1996.  In 2006 he was elected Senate Minority Whip and is the only person to serve in this position in both the House and the Senate.  Following his 35-year service to the people of Mississippi, he and former Louisiana Sen. John Breaux founded the Breaux Lott Leadership Group and now serve as special senior counsel following the firm's acquisition by Patton Boggs LLP.
Pat Scanlon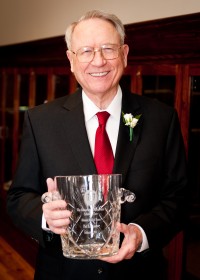 Pat H. Scanlon grew up in Jackson, Miss. where he graduated from Central High School.  Following high school he attended Louisiana State University, where he played varsity tennis and served as president of the College of Arts & Sciences and also in the student senate.  After receiving his B.S. degree in 1957, Scanlon moved to Oxford to study law.  As a law school student, he was a member of the editorial board of the Mississippi Law Journal, the Moot Court Board, Phi Kappa Phi honor society, Omicron Delta Kappa leadership society and Phi Delta Phi legal fraternity.  In 1960 he received his law degree "With Distinction."
Scanlon served his country by performing active duty with the U.S. Army Reserve Judge Advocate General Corps, reaching the rank of Captain.  Most of his legal career (33 years) was spent practicing with the firm of Young, Scanlon & Sessums.  He also practiced seven years with the firm of Scanlon, Sessums, Parker & Dallas.  Scanlon practiced with Watkins & Eager for two years before retiring in 2004.  Throughout his career he spoke at law seminars on the topics of construction law, Chapter 11 bankruptcy law and civil procedure.  He has been published in the Mississippi College Law Review and worked with his son, John, to author a chapter in Mississippi Civil Procedure.
Scanlon has provided tireless service to the legal profession.  He has served as president of MS Young Lawyers Association, chairman of the 24th Annual MS Law Institute, president of the Fellows of the MS Young Lawyers Division, president of the Jackson Junior Bar Association, president of the Hinds County Bar Association, president of the Mississippi Bar Foundation and president of the MS Bankruptcy Conference.  He has also served as president of the MS Bar and was a member of the ABA House of Delegates for five years.  Scanlon also served his university as president of the Law Alumni Chapter, chairman of the Lamar Order and as a member of the Ole Miss Alumni Association's executive committee.
His service and professional accomplishments have not gone unnoticed.  Scanlon was listed in Best Lawyers in America from its original publication in 1983 until his 2004 retirement.  He has been named a Fellow of American College of Trial Lawyers and Fellow of the International Society of Barristers.  He is a Life Fellow of the American Bar Foundation and was the law school's 1986 Law Alumnus of the Year.
Constance Slaughter-Harvey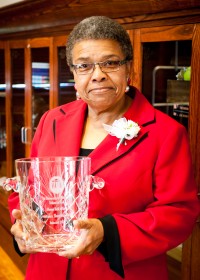 Constance Iona Slaughter-Harvey, a native of Forest, Miss., graduated from Hawkins High School and Tougaloo College.  She is truly a trailblazer in this state.  At Tougaloo, she was elected as the school's first female President of the Student Government Association.  In 1970 she became the first African American female to receive a law degree from the University of Mississippi. In 1976 she became the state's first African American female to be appointed to serve as judge.
Slaughter-Harvey began her career with the Lawyers' Committee for Civil Rights Under Law working there until 1972.  She returned to Forest and established her private law practice and has served as Executive Director of Southern Legal Rights, later becoming Director of East Mississippi Legal Services.  In 1980, she joined Gov. William Winter's staff as Director of Human Development.  In 1984, she became Assistant Secretary of State for Elections and Public Lands with Secretary of State, Dick Molpus.  Together they reformed Sixteenth Section School and Public Trust Lands, lobbied for Mail-In Voter Registration (signed into law on April 1, 1991) and fought for Moter Voter Registration.  In 1991, she was promoted to General Counsel and continued service as Assistant Secretary of Elections.  In 1996, she returned to her law practice and became President of Elections, Inc., a position she currently holds.  She is also President of the Slaughter Memorial Foundation where she supervises programs in after-school tutorial and enhancement, abstinence, and several other youth initiatives.
Slaughter-Harvey was the only female of the eight founders of the National Black Law Student Association when it formed in 1969 at Rutgers University.  In 1998, the University of Mississippi's Black Law Student Association was named in her honor.  She is a past President of the Magnolia Bar Association and recipient of the prestigious R. Jesse Brown Award.  She is a past recipient of Mississippi State University's Distinguished Service Award and the University of Mississippi's Distinguished Black Mississippian Award.  She is a two-time recipient of the National Council of Negro Women's Outstanding Service Award.  She has also twice earned the NAACP Legal Awards for dedication and commitment to the continuing struggle for legal justice.  Tougaloo College inducted her into its alumni Hall of Fame in 2000 and named her its Alumnae of the Year two years later.  In 1999, Thomas and Ann Colbert honored her with the establishment of the Constance Slaughter-Harvey Endowed Chair in Political Science/Pre-Law at Tougaloo College.  In 2000 she was inducted as a MS Bar Foundation Fellow, and the Bar awarded her the Susie Blue Buchanan Award in 2004.  Among these and many other awards she has been presented, the most recent include selection as a 2011 Champion of Justice by the MS Center for Justice and being named a Woman Trailblazer in 2012 by the MS Bar.
Slaughter-Harvey is the mother of Constance Olivia Slaughter-Harvey Burwell.  She and her husband, James, reside in Jackson, MS with their two year old son, James Arthur Emmanuel Burwell, III, a/k/a Tre'.
William M. Watkins
posthumously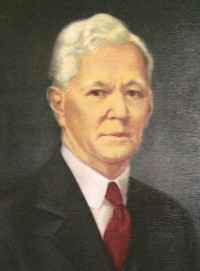 Raised on a farm in Jefferson County, Miss., the late William Hamilton Watkins received his L.L.B. degree in 1895 from the University of Mississippi. At 17 he accepted a job with the Cohn Brothers Mercantile Company at Lorman, Miss., near his home. When he had earned sufficient funds, he entered Southern University at Greensboro, Ala., in 1890.
In 1893, he entered Millsaps College, and in 1894 he enrolled in the law school at the University of Mississippi. While a student, he earned the highest grade ever made in the law school and one that has never been equaled – that of 99.5%. He was First Honor Man and Class Orator of the class of 1895.
Upon graduation, Watkins became the 20th lawyer in the Jackson bar. Specializing in civil and corporate law, he went on to become a founder of one of the most successful Jackson law firms, Watkins & Eager.
One mark of his ability was that early on he attained a well-deserved reputation, throughout Mississippi and in surrounding states, for excellence and expertise in appearances before, and submissions to, the Supreme Court of the United States.
On multiple occasions, various governors asked him to act as a special justice of the Supreme Court of Mississippi. He was an invited member of the American Law Institute and authored the annual Martindale-Hubbell summary of Mississippi law.
He was elected to a term as President of the Mississippi Bar and to terms in the House of Delegates of the American Bar Association.
Watkins served as President of the Board of Trustees of the State Department of Archives and History from 1936-55.
A charter member of the Jackson Rotary Club, Watkins served a term as president. He was a founding member of the Jackson Little Theatre and served as director of Jackson-State National Bank and of The Gammill Company. From 1938-52, Watkins' leadership extended to service on the Board of Trustees of Tougaloo College.
Watkins taught the men's bible class at Galloway Memorial Methodist Church from 1911-46. On the Sunday after his death the group changed its name to the "William Hamilton Watkins Memorial Bible Class.