William H. Barbour, Jr.
Judge William Barbour, a native of Yazoo City, attended Yazoo City High School and then The Lawrenceville School, a preparatory school for boarding and day students in New Jersey. Barbour followed in his father's footsteps by enrolling at Princeton University. Known to his roommates and others around campus as "Yazoo," he lettered in football his junior and senior years and was a member of the Cottage Club, a selective dining/social club. Judge Barbour majored in politics and received his degree from Princeton in 1963.
Following his time at Princeton, he returned to his home state to enroll in the University of Mississippi School of Law. During his time as an Ole Miss law student, he met Louisville native Stewart Fair. They married in 1965. He obtained his law degree in 1966 and made his way to New York University School of Law, where he attended the graduate tax program.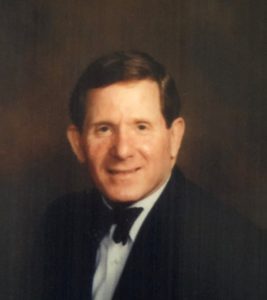 A third-generation attorney, Barbour returned to his home of Yazoo City to practice law with his father and cousins. He left private practice in 1983 when President Ronald Reagan nominated him, and the U.S. Senate confirmed his appointment, as an Article III judge to the United States District Court for the Southern District of Mississippi. He served as Chief Judge from 1989 through 1996. He took senior status in 2006 and retired from the bench in 2019. During his tenure with the District Court, he oversaw the construction of the Thad Cochran United States Courthouse in Jackson.
William and Stewart had three children, Margaret Faire Barbour Hurst, William H. Barbour III and Charles Frank Fair Barbour. Following the 2006 death of Stewart, mutual friends introduced Barbour to Sherrie Kenworthy. They were faithfully married until Judge Barbour's death in 2021. In his community, William served First Presbyterian Church of Yazoo City for many years as deacon and elder. Though he is professionally revered as a prominent attorney and judge, his friends and family remember his zeal. His passions included traveling, flying, hunting, hauling horses and woodworking. But nothing brought him more joy than his friends and family, especially his 15 grandchildren.
Minnie P. Howard
Minnie Howard was born in Yalobusha County in the town of Coffeeville. She later moved to Grenada to attend and graduate from Grenada High School during a time of desegregation. Despite the outside distractions of physical threats and police escorts to and from school, Howard graduated valedictorian of her class. She then made her way a few miles north to Oxford to attend the University of Mississippi. In 1976, she obtained her bachelor's degree in English.
During this time in her life, a common expectation of females of color was to go into the profession of teaching. Guided by her passion to help people, she decided to stay in Oxford, push back on society's expectations, and enroll in law school at the University of Mississippi. As a law student, she was a member of Phi Alpha Delta, an international legal fraternity. Upon earning her J.D. in 1980 she looked at career options that were presented to her. Again, she trusted her instincts that were telling her to do something to help people in need. She ultimately chose to go to work for North Mississippi Rural Legal Services. This provided her the opportunity to be of assistance to those who did not know where to turn for assistance. It was also considered a strong training ground for young black lawyers.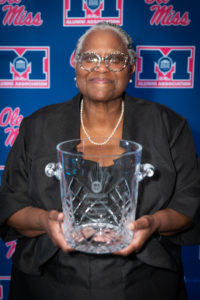 Now the Deputy Director of North Mississippi Rural Legal Services, Howard has built quite an impressive body of work establishing and preserving the basics of life for the poorest citizens of north Mississippi. She has seen and been part of many important cases in the area involving voting rights, school desegregation, and employment discrimination, to name a few. She has gone to battle for Mississippians, litigating cases of wrongful foreclosure, consumer issues including fair debt collection and rescission rights, and public benefits and disability. One accomplishment she holds in high regard is a case she appealed before the Mississippi Supreme Court that ultimately led the court to establishing guidelines and rules for how guardians ad litem are to represent their clients. Her efforts brought about concrete rules that are to be followed.
She has given back tremendously to her alma mater with the time she has put into the law school's clinics. Howard led and expanded the law school's former Street Law Clinic, a partnership between North Mississippi Rural Legal Services and the law school. Her work in this arena took the partnership from a limited counsel and legal advice service to involving students in courtroom work. The result provides students, who are sworn in for limited practice, valuable experience and basic skills of how to represent clients. For more than two decades, she taught in the school's clinical programs and has mentored students outside of those clinics. Never has she turned away a student who has shown an interest in assisting low-income clients.
Additionally, Howard has served the Mississippi Bar as a member of its Board of Commissioners. Locally, she has put in time as president of the Panola County Bar Association.
More than 40 years after graduating from law school, Howard has maintained her mission of representing the poor, marginalized citizens of Mississippi with great compassion. Day in and day out, her work continues to set the standard for equal rights of all members of the community.
Myres S. McDougal
Born in 1906 in rural Prentiss County in north Mississippi, Myres McDougal would become a widely renown scholar in the field of legal education. After graduating from Booneville High School as valedictorian, McDougal moved to Oxford to resume his role as a leading student at the University of Mississippi. At Ole Miss, he excelled in classics. By his senior year, he was teaching Latin and Greek. Not only was he a scholar, but he was also an athlete, playing football during his undergraduate years. He also served as editor of The Mississippian, the school's newspaper, and was president of the Associated Student Body. At the age of 20, he graduated with his bachelor's degree. He would follow that with a master's degree and an L.L.B. from the University of Mississippi School of Law.
One of the highlights of McDougal's term as editor of The Mississippian was his fight to retain Albert Hume as the university's chancellor. Chancellor Hume's position was threatened by the Mississippi legislature because he allowed the university to teach Darwin's theory of evolution. McDougal wrote an article defending the chancellor and traveled to Jackson to distribute copies at the state capitol. The chancellor would later reciprocate by supporting McDougal's application for a Rhodes Scholarship.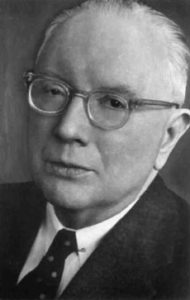 He spent three years in England studying at St. John's College, where legal historian Sir William Holdsworth was his tutor. It was Holdsworth who supported McDougal's desire to be a legal scholar and directed him to Yale. McDougal wrapped up his time at Oxford University earning degrees in jurisprudence and civil law. He achieved double first class honors, which is rare for an Englishman, let alone an American. He then enrolled at Yale to pursue a doctoral degree.
Following his 1931 graduation from Yale, McDougal was guided by Dean Charles Clark to the University of Illinois Law School in Urbana to gain experience in teaching and research. In 1935, Dean Clark invited him back to Yale Law School to become a member of its faculty. At the same time, he accepted a visiting post at the University of Chicago Law School. During this brief period in Chicago, he met Harold Lasswell, with whom he would team up to develop a new body of thought on international law. Their work would later be called the New Haven School of Jurisprudence. Between 1943 and 1960, McDougal would write or co-author 33 articles developing his theory on international law. After 1960, he wrote six books devoted to the subject. He also wrote an additional 38 articles and chapters by himself.
In 1958, he served as president of the American Society of International Law. He later served the organization as honorary president for four years in the 1970s. The Society honored him in 1976 with their Hudson medal. In the mid-1950s, he was of counsel to the Saudi Arabian government during the Aramco arbitration. In 1966, he served as president of the American Association of Law Schools and was a member of the United States Permanent Court of Arbitration from 1963-1969. In 1975, he retired from his full-time post at Yale. President Gerald Ford was one of 350 attending the celebration. Eventually named the Sterling Professor Emeritus of Law, his career as a professor at Yale spanned five decades. He followed that portion of his career by teaching at New York Law School.
Though most of his years were spent in New Haven, Connecticut, his love for his home state never faded. He had the opportunity to return to Oxford in 1996, when the University of Mississippi law school honored him with a Lifetime Achievement Award. When he died in 1998 at the age of 91, he was survived by his wife of more than 60 years, the former Frances Lee. They met during his year as a graduate student at Yale Law School. Together they had a son, John Lee McDougal.
Michael C. Moore
A product of the Mississippi Gulf Coast, Mike Moore graduated from Our Lady of Victories High School (now Resurrection Catholic School) in Pascagoula. He spent two years at Mississippi Gulf Coast Community College before making his way to Oxford to attend the University of Mississippi. He studied political science and in 1974 obtained his bachelor's degree. Two years later he would earn his J.D. from the University of Mississippi School of Law.
Following his time in Oxford, Moore returned to the Mississippi Gulf Coast to practice law. In 1977, he became an assistant district attorney representing Jackson, Greene and George counties in Mississippi's 19th Judicial District. Two years later, at the age of 26, he would win an election to be that area's district attorney, becoming the youngest elected official in the state. During his term as district attorney, he successfully convicted multiple Jackson County supervisors on corruption charges earning him statewide recognition.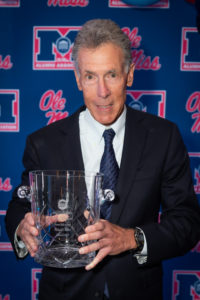 In 1988, Moore was elected attorney general of the State of Mississippi, a position he held until 2004. Early in his first term, he lobbied the state legislature to pass a bill to allow the office of the attorney general to fight public corruption and established a white-collar crimes unit within his office. In 1994, he began receiving national recognition when he filed suit against 13 tobacco companies. This move made Mississippi the first state to seek action from cigarette manufacturers to reimburse the state for incurred costs related to treatment of smoking-related illnesses. The lawsuit resulted in a $4.1 billion settlement for the state. From there, Moore led a national tobacco litigation effort resulting in a $246 billion recovery for all states in the nation.
During his term as attorney general, Moore worked tirelessly to help Boys & Girls Clubs across the country. He helped secure more than $7 million from the Mississippi legislature to benefit Boys & Girls Clubs within the state. He worked with the Government Relations Office of Boys & Girls Clubs of America to secure another $7 million in federal funds to help double the number of clubs within Mississippi. Presently, Mike Moore still travels across the country speaking on behalf of Boys & Girls Clubs, asking state government officials to invest in Clubs within their own borders.
Moore became the first Mississippian, in 1992, to be selected one of the Ten Most Outstanding Young Americans by the National Jaycees. In 1994, his fellow attorneys general selected him to receive the prestigious Wyman Award, naming him the most outstanding attorney general in the nation. As Mississippi's attorney general, he had the honor of serving as president of the National Association of Attorneys General. In 1998, he was named "Lawyer of the Year" by the National Law Journal, and Governing Magazine named him "Public Official of the Year." In 2003, he was presented the "Champion Award" by Tobacco-Free Kids for a decade of service dedicated to protecting America's youth from tobacco addiction. In 2004, he was awarded the Julius Richmond Award, the highest honor bestowed by the Harvard School of Public Health.
Though he is involved in many public health initiatives, he has stayed active in tobacco prevention work across the nation and has long served as chair of the Partnership for a Healthy Mississippi, the state's signature tobacco prevention program. This program happens to be one he founded after the 1998 tobacco lawsuit settlement. He has remained active with the state's Tobacco Advisory Board. He serves on the board of the National Campaign for Tobacco Free Kids and was recently selected to serve on the State Attorneys General Legacy Board to reduce tobacco use in America. He also sits on the board of the Cal Ripken, Sr. Foundation to benefit at-risk youth programs.
Following his service in public office, Moore returned to private practice. The Mike Moore Law Firm, LLC, based in Flowood, specializes primarily in corporate-government relations.
Colette A. Oldmixon
A native of Texas, Colette Oldmixon is a 1981 graduate of the University of Mississippi School of Law. As a law student, she was a member of Phi Delta Phi legal fraternity and served on the Mississippi Law Journal as Supreme Court Review Editor. One of her case notes was published by the MLJ. She also worked as a researcher for the Mississippi Judicial College. Prior to her stint in Oxford, Oldmixon attended Northwestern State University in Natchitoches, Louisiana, where she received her bachelor's degree in journalism. There, she was editor of Current Sauce, the university's weekly newspaper.
Immediately following graduation, Oldmixon moved to Poplarville to work with her mentor, David Smith, and his partners. Predominantly a plaintiff's personal injury lawyer, she maintains what is now the law firm of Smith & Oldmixon. Smith, who was an original member of the Mississippi Supreme Court Advisory Committee on Rules, introduced Colette to the committee. In 1996, she was nominated by the Mississippi Bar to the committee and served on it continuously until the end of 2022. Within this committee, she has chaired the Mississippi Rules of Criminal Procedure subcommittee and served as secretary/treasurer of the committee, vice chair of the committee and ultimately chair of the committee.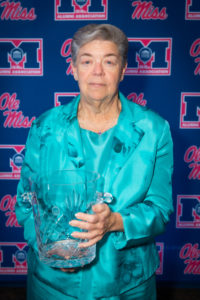 In addition to judging mock trials for the Bar for 24 years, she has served on the CLE Committee, the Mississippi Lawyer Committee, the Nominating Committee, Professionalism Committee, Ethics Committee, Planning Committee, Professional Responsibility Committee, Resolutions Committee and the Task Force to Improve Public Confidence in the Judicial System. She served as Mississippi's delegate to the Fifth Circuit Court of Appeals, was a Commissioner with the 15th Circuit Court District and chaired the ad hoc Committee on Rule 12. For more than two decades, she participated in the James O. Dukes professionalism programs for first year law students at both of Mississippi's law schools.
She as been a fellow of the Mississippi Bar Foundation for more than 20 years and has served on its board of trustees, was chair of the Loan Repayment Assistance Program and was elected President-elect and President.
Oldmixon is a lifetime member of the Mississippi Association of Justice, her membership spanning more than 40 years. She has served on and chaired its numerous committees. She has also been on its Board of Governors and is a past Secretary of the organization. In 2004, she was inducted into Mississippi's ABOTA chapter and has served as its Secretary/Treasurer, Vice-President, and President. At her law school, Oldmixon is a past president of the Law Alumni Chapter's board of directors and a past Chair of the Lamar Order.
In 2002, the Mississippi Bar awarded her the Distinguished Service Award for her work on Rule 12 of the Rules of Discipline. The Mississippi Association of Justice recognized her in 2004 as their Trial Lawyer of the Year. In 2009, she was given the Law Related Education Award by the Mississippi Bar. In 2011, the Mississippi Business Journal named her one of Mississippi's 50 Leading Attorneys in its Leadership in Law program. The UM School of Law, in 2016, named her its Law Alumna of the Year. In 2022, the Mississippi Supreme Court presented a plaque to recognize her years of service to the Rules Committee.
She is a faithful member of St. Joseph's Catholic Mission in Poplarville and has served on the Parish Council for several years. She is a past participant of the Poplarville School District's strategic planning committee. She has past service to the Pearl River County Hospital and Nursing Home Board of Trustees and served as chair of that board for one year. In her 42 years as a member of the Mississippi Bar, Oldmixon has provided invaluable services to the town of Poplarville, Pearl River County, the state of Mississippi and to the University of Mississippi School of Law.