Jesse Boyce Holleman
Born in Fruitland Park, Mississippi, Boyce Holleman grew up in Wiggins. Following high school, he attended Perkinston Junior College before making his way to Oxford. He earned his BA in 1947 and his law degree in 1950, both from the University of Mississippi. At the university, he put his writing skills to work as a staff member of The Daily Mississippian newspaper and as a member of the Mississippi Law Journal in law school. He was also an active member of the debate team.
A member of the Greatest Generation, Holleman served his country with great bravery during World War II as a Naval aviator. He graduated from Pensacola Naval Air Academy in 1943 and served aboard the U.S.S. Gambier Bay. He earned a Purple Heart when he was shot down on a bombing run of Saipan. He would be the sole survivor of that run and spend 14 months in a California hospital recovering from severe injuries. He retired from the Navy in 1946 after achieving the rank of Lieutenant Commander.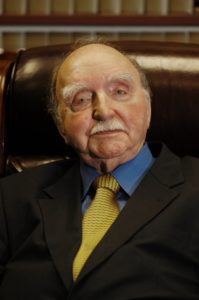 As a 23-year-old student at Ole Miss, Holleman was elected in 1947 to the Mississippi House of Representatives. He left law school in 1950 and established his law practice in Wiggins. In 1953, his tenure as a member of the Mississippi legislature came to an end when he was appointed to the position of District Attorney for the Mississippi Gulf Coast. As the District Attorney, he undertook some controversial court cases and even survived an assassination attempt by the Dixie Mafia. He was re-elected five times to the position of District Attorney. During this period, he moved his family from Wiggins to Gulfport. He retired as District Attorney in 1972 to return to the private practice of law.
Holleman served as attorney for the Harrison County Board of Supervisors for 18 years and for the local school district for 15 years. He provided further service to his industry when he was elected President of the Mississippi Bar in 1969 and in 1970. In 1995, the Mississippi Bar recognized his invaluable service when they awarded him the Outstanding Achievement in Law Award.
In 1975, Holleman took on another challenge and began another chapter of his life when he started an acting career. He starred in many stage productions and portrayed both Mark Twain and noted attorney Clarence Darrow in his one-man shows. His television credits include appearances on "In the Heat of the Night" and "I'll Fly Away." He also appeared on the big screen in the motion pictures "Stone Cold," "A Simple Twist of Fate," "The Secret Passion of Robert Clayton," "Sister Island," "The Beast Within," and Eudora Welty's "The Ponder Heart." During his time as an actor, he earned a Screen Actors Guild card and helped establish the Center State Theater in Biloxi.
Boyce Holleman was a member of First Baptist Church in Biloxi. At the time of his death, he left behind his wife, Annie. He is also survived by daughters Diane Holleman Kiser and Beth Holleman as well as sons David Holleman, Mike Holleman, Tim Holleman and Dean Holleman. Other survivors include his stepdaughters Anne Presley, Dede Cage and Rebecca Anderson, stepson Neill McInnis and 16 grandchildren.
Sherman Muths, Jr.
Sherman Muths, Jr. grew up in Gulfport and graduated from Gulfport High School. He received his BBA from Ole Miss in 1954 and his LLB from the Ole Miss law school in 1960. As an undergraduate, he served as president of Sigma Nu fraternity the year the existing house was built.
In between his time as an undergraduate and a law student, Muths served three years of active duty in the U.S. Air Force as a navigator on international flights. His military services continued as a reserve Major in the office of the Staff Judge Advocate, Keesler AFB, from 1960 until 1970.
Muths was an active, prominent practicing attorney for forty years, working every type of civil case in all of the federal and state courts. In addition to participating in numerous Bar activities, he rendered tireless service to the legal profession as a lifetime Fellow of both the Mississippi and American Bar Foundations, as a member of the Mississippi Bar Judicial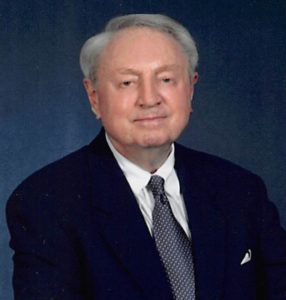 Nominating committee (chairman 1983) and the Mississippi Bar Complaints Tribunal. He also served as president of the Jr. Bar, the Harrison County Bar, the Ole Miss Law Alumni Chapter's board of directors and the Lamar Order. Serving as chairman of the Mississippi Bar Foundation in 1988, he supervised the construction and furnishing of the current Bar Law Center in Jackson and presided at the dedication dinner at which the President of the ABA was a guest speaker.
Local civic activities for Muths in Gulfport include his selection as Young Man of the Year and serving as president of the Ole Miss Alumni Association's Gulf Coast alumni club and of the Gulfport Chamber of Commerce. He was the founder of the Gulfport Business Club, the Coast Wine Society and Vision Gulf Coast, which studied race-related issues and sought solutions. He has been very loyal to his alma mater as an enthusiastic supporter of anything Ole Miss or its law school. In 1986-87, Muths served as president of the Ole Miss Alumni Association. In 2002, he was honored with induction in the Ole Miss Alumni Hall of Fame.
After service to the state of Mississippi as a member of the House of Representatives, he was appointed to the U.S. Gulf of Mexico Fishery Management Council on which he served nine years. He also became the first chairman of the newly formed Mississippi Commission on Marine Resources. He was also chairman for eight years of the Mississippi Home Corp., which issues bonds for low- and middle-income home buyers.
Other entrepreneurial activities include operating a rural Illinois cellular system, president of a commercial aircraft charter service, developer of downtown Gulfport property and co-founder of the Mississippi Seawolves, the first professional hockey team in Mississippi.
An active member of Trinity United Methodist Church, Muths also served for many years on the boards of the Methodist Foundation and the Methodist Children's Home. He and his wife of 60 years, the former Celia Carter, have one son, Sherman Muths III, and two lovely granddaughters, Meg and Izzy, who affectionately refer to Sherman as "Papa."
Joy Lambert Phillips
Joy Phillips earned her B.A. in Political Science from Ole Miss in 1976. She went on to law school at the University of Mississippi, where she was a member of Phi Delta Phi, a legal honor society and earned membership on the Mississippi Law Journal.
Phillips' career has been spent in the banking industry for more than 30 years. In 1999, she joined Hancock Bank, working her way into the role of the bank's chief attorney. In 2011, Phillips oversaw one of the largest bank mergers in Mississippi's history when Hancock merged with Whitney Bank.
As General Counsel at Hancock Whitney, Phillips practices primarily in the field of commercial and banking law, but also serves as part of the Company's executive management team. Phillips served as the Mississippi Bar President for 2005 to 2006. She currently serves on the Mississippi Bar's Access to Justice Committee and is a former Co-Chair of the Access to Justice Commission, which was appointed by the Mississippi Supreme Court. In 2010 she received the Chief Justice award for her work on the Access to Justice Commission. She is a former Board member of the Mississippi Volunteer Lawyers Project and co-chaired its annual fundraiser. In 2013, she received the Mississippi Center for Justice's award as a "Champion of Justice."
Phillips was editor of "A Guide to Women's Legal Rights in Mississippi", published by the Mississippi Bar, Young Lawyers Division, Women in Law Committee. She is a Fellow of the Mississippi Bar Foundation and a Fellow of the American Bar Foundation. She received the 2011 Law Alumni of the Year award from the Law Alumni Chapter of the University of Mississippi Alumni Association.
Additionally, Phillips is a member and former Chair of the Bank Attorney Committee of the Mississippi Bankers Association. She is also a Past Chair of the American Bankers Association's General Counsel Committee. She has co-authored a chapter in "Foreclosure Law in Mississippi", published by the University of Mississippi. Phillips received her B.A. and J.D., with honors from the University of Mississippi. She also completed a three-year program at the Graduate School of Banking at Louisiana State University, receiving a certificate of completion with highest honors.
Nausead Stewart
Born in Starkville, Nausead Stewart graduated from Oktibbeha County Training High School and went to Tougaloo College in Jackson. At Tougaloo, she was a member of Alpha Kappa Alpha Sorority, Inc. and graduated in 1953, with honors, with a degree in history and home economics. She left Tougaloo and began a career in education, teaching history for 13 years in West Point. During her time as a teacher, she acquired her master's degree from Atlanta University. In 1967, she took a courageous leap of faith and enrolled in the University of Mississippi School of Law. Before she obtained her J.D. in 1970, she would become the first African American to be selected to serve on the Mississippi Law Journal.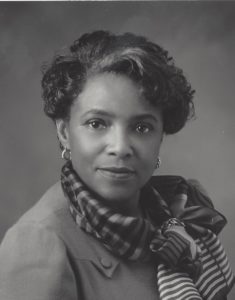 While she was still a law student, Stewart was hired to work with the Lawyers Constitutional Defense Committee. A year later, when that office closed, she was hired by the Anderson, Banks, Nichols and Leventhal law firm to work with the NAACP Legal Defense Fund civil rights litigation. Most of this work involved post desegregation discriminatory practices in teacher and administrator hiring and retention. In 1975, she was made partner, and the firm would become known as Anderson, Banks, Nichols and Stewart.
Stewart left the firm that made her a partner to become director of the Lawyers Committee for Civil Rights Under Law in Jackson. This office closed in the 1980s, and Stewart joined the Walker and Walker law firm. Here, she handled appellate work and motion practice. In 1982, she again became a trailblazer when she became the first African American female to qualify and run for County Court Judge in Hinds County.
After her time with Walker and Walker, Steward took a position with MINACT, Inc. in Jackson, where she worked with grant writing and compliance. She held this position until her retirement. It was around this time that she was also appointed by Jackson Mayor Harvey Johnson to serve as a Jackson Civil Service Commissioner. She held this position until 2006.
Throughout the years, she spent much of her spare time giving back to her community by participating on several boards of local community organizations. For her work with these organizations, she would receive numerous awards.
Surrounded by members of her family, Nausead Stewart died in 2015 in Jackson. She was survived by her sister, Doris Anderson, her brother, Thomas J. Stewart, Jr. and her nieces, nephews and cousins.
C. David Swenson
Born in Jackson and raised in Clarksdale, Tunica, and Jackson, David Swenson graduated from Murrah High School in 1970. He earned an A.A. from Hinds Junior College in Raymond in 1972; a B.A. from the University of Mississippi in 1974; a J.D. from the University of Mississippi School of Law in 1977; and a LL.M. (Taxation) from Georgetown University Law School in 1981.
As an undergraduate, Swenson majored in Political Science, minored in Psychology, and graduated with Distinction honors. He was a member of the Omicron Delta Kappa National Leadership Honor Society and the Phi Kappa Phi National Academic Honor Society. At the University of Mississippi School of Law, he graduated with honors and was a member and articles editor of the Mississippi Law Journal. He was also editor-in-chief of the Journal of Space Law, and a member of the Phi Delta Phi International Legal Academic Honor Society. In his third year of law school, Swenson was elected president of the Law School Student Body and was the faculty selection to receive the Dean Parham H. Williams, Jr. Award presented to the outstanding student in the graduating class. At Georgetown, Swenson concentrated in the areas of domestic and international taxation, graduated with honors, and was associate editor of the Tax Lawyer Journal.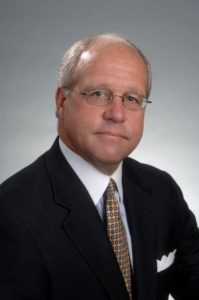 Immediately following graduation from Ole Miss Law, Swenson and his wife, Lynn, continued their lifelong journey together by moving to the nation's capital when he accepted a position as an associate attorney at Baker & McKenzie (B&M), then the world's largest law firm.  At B&M, Swenson specialized in international trade law, domestic and cross-border tax disputes, and international taxation. In 1984, Swenson was elected an international equity partner in B&M and became a member of B&M's global leadership and management team, Chairman of the North American Tax Management Committee, Chairman of the Tax Practice in the Washington, D.C.  office, and led the firm's U.S. Tax Controversy and Litigation practice and its Transfer Pricing practice.
In 2007, after 30 years of practice, Swenson retired from B&M and joined PricewaterhouseCoopers, LLP, one of the world's "Big 4" international accounting, tax, and advisory firms, as an equity partner in its Washington D.C. office. At PwC, Swenson conceptually designed and then formed the firm's Global Tax Controversy and Dispute Resolution (TCDR) Network, and currently serves as the Global Leader of the TCDR Network.
In 2019, Swenson was appointed Co-Deputy Global Leader of PwC's Global Legal Services Network, a practice with more than 3,700 legal professionals worldwide. He serves as a member of the Legal Services Network's global leadership team, with primary geographic responsibility for the Americas region, extending from Canada to Mexico to Argentina.
During his career, he has been recognized nationally and internationally as one of the world's leading international tax lawyers. Swenson has received recognition as:  One of the Top 20 "Leading U.S. Attorneys in the area of National Tax Litigation" and the "Band 1 Level" by Chambers U.S.A.; one of the "World's Top 25 Transfer Pricing Specialists" by Euromoney's Legal Group; a "First Tier Leading Individual" in the Tax Controversy area and in the Cross-Border Structuring area by the International Tax Review (ITR); one of the "World's Leading Corporate Tax Advisers" and "The Best of the Best" by the Legal Experts Guide; as a "Super Lawyer" by the Washington Post Super Lawyer Magazine; and, for the last 11 years, one of the "World's Leading Tax Controversy Advisers" by the ITR Tax Controversy Leaders Guide (2011-2021).  Swenson has been described as "one of the top five tax controversy experts in the United States."
Swenson has served the legal profession in numerous roles over the years, including as chairman of the Transfer Pricing Subcommittee of the ABA Tax Section Committee on Foreign Activities of U.S. Taxpayers; chairman of the International Tax and Finance Forum; co-chairman of the Advisory Board of the Annual Institute on Current Issues in International Taxation (sponsored by the IRS and the George Washington University Law School); and chairman of the International Tax Committee of the District of Columbia Bar Association. Swenson also received a meritorious service certificate from the U.S. Treasury Department and the Internal Revenue Service for his contributions to the IRS-GWU Annual International Tax Institute.
Swenson served as an adjunct professor in the Graduate Law Program at Georgetown University Law School, where he taught courses in international tax law from 1987-2012.  Swenson has also served as a guest lecturer at the George Washington University Law School, the University of Virginia School of Law, the University of Chicago Law School, and other universities in the U.S. and around the world.
Swenson and his wife of 46 years, the former Melinda (Lynn) McManus of Columbus and Oxford, currently live in the Mount Vernon area of Alexandria, Virginia. Swenson is the proud father of seven children:  David Swenson, Jr., Walter Swenson, Katie Swenson, Alex Swenson, Kendall Swenson Garifo, Zak Swenson, and Heather Swenson Whitworth, and eleven grandchildren.