Wayne Drinkwater
A product of Meridian, Mississippi, Wayne Drinkwater (BA 71, JD 74) was a member of Phi Delta Theta Fraternity, serving as president and was director of academic affairs during his term with the Associated Student Body. He earned Taylor Medals in 1970 for his excellence in political science and in 1971 for political science and English. As an undergraduate, he was also a Carrier Scholar and a member of Omicron Delta Kappa, a national leadership honor society. Graduating as co-valedictorian of the Class of 1971, Drinkwater was also selected as a member of the Ole Miss Student Hall of Fame. As a law student, he was on the Mississippi Law Journal, and graduated summa cum laude.
Upon graduating law school, Drinkwater clerked for Chief Judge William C. Keady, in the Mississippi Northern District of United States District Court. In 1976, he made his way to Washington, D.C., where he clerked for United States Supreme Court Chief Justice Warren Burger. Following his time in D.C., he made his way back to Mississippi and built a career that includes vast experience with major business, commercial and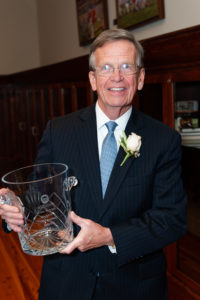 constitutional litigation.
Throughout the years, Drinkwater has been listed in multiple publications. These include listings in Chambers USA for General Commercial Litigation, 2003-2012 and 2018, a Star Individual in General Commercial Litigation 2004-2017 and Appellate Litigation 2005-2018. He was listed in The International Who's Who Legal, Product Liability Defense Lawyers from 2016 to 2018. The Best Lawyers in America has listed him since 1997 in a vast array of categories. This includes listing him as Lawyer of the Year in Jackson in Bet-the-Company Litigation for 2012 and 2015 as well as the 2016 Lawyer of the Year in Jackson in Litigation/Class Actions-Defendants and in 2019 as Lawyer of the Year in Jackson in Appellate Practice. He was listed as a Mississippi Litigation Star 2008-2018 and as a Mississippi Appellate Star 2012-2013 by Benchmark. Mid-South Super Lawyers listed him in the category of Business Litigation 2006-2017 and "Top 50" in Mississippi 2012-2017.
Drinkwater's career includes being named a fellow in American College of Trial Lawyers, American Academy of Appellate Lawyers, the American Bar Foundation and the American Law Institute. He has served as an advocate for ABOTA and as a trustee of the Mississippi Bar Foundation. He has been the state chair of the Supreme Court Historical Society and has served on the board of trustees of the Lawyers Committee for Civil Rights Under Law. He is also a sustaining member of the Product Liability Advisory Council.
Within his community, he has served as a vice chancellor of the Episcopal Diocese of Mississippi. In support of his alma mater, Drinkwater serves as president-elect of the Friends of the Library, which is the University Libraries' society that provides much-needed financial support. He is also a member of the Lamar Order and has served as its chairman. In addition, Drinkwater has served the Ole Miss Alumni Association with past service as a board member.
Upon retiring from Bradley Arant Boult Cummings LLP as a partner, Drinkwater made his way back to Oxford with his wife, Ouida Creekmore Drinkwater (MA 78).
Kathryn H. Hester
Katie Hester made the most of her experiences during her time as a student at the University of Mississippi. As an undergraduate, she was a member of Kappa Kappa Gamma Fraternity, the University Singers and served on the Associated Student body as a class representative and as secretary. Her hard work as a student at Ole Miss earned her membership in Mortar Board, a national honor society for college seniors who are recognized for their scholarship, leadership and service, Omicron Delta Kappa, a national leadership honor society, and Phi Kappa Phi, the nation's oldest multidisciplinary collegiate honor society. In 1965, Hester graduated cum laude with a degree in history and was selected to the Ole Miss Student Hall of Fame.
In law school, she was a member of the Mississippi Law Journal where she served as student works editor and as articles editor. Her hard work in law school earned her membership in Phi Delta Phi, the oldest legal organization in continuous existence in the country, which recognizes academic excellence and professionalism.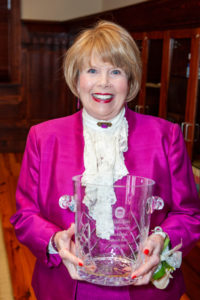 Hester is special counsel in the Jackson offices of Jones Walker LLP, where she works in the fields of litigation, healthcare, administrative proceedings, estate challenges, zoning and gaming law. Her service to the Mississippi Bar includes membership in the sections of Gaming, Health and Estates and Trust Law. She serves the American Bar Association with her membership on their Litigation and Health Law sections. Locally, she is a past president of the Charles Clark American Inn of Court. Hester is a fellow of the Mississippi Bar Foundation and past member of the Board of Bar Commissioners. She is a past president of the Mississippi Chapter of the Federal Bar Association and holds Martindale-Hubbell's AV Preeminent Peer Review Rating.
In 1989, Gov. Ray Mabus appointed her as Hinds County chancellor. She has ushered along future lawyers by teaching pre-trial practices as an adjunct professor at Mississippi College School of Law. She has also been active with the Mississippi Association of Gaming Attorneys and the Mississippi Oil and Gas Lawyers Association.
Throughout her career, she has been listed in The Best Lawyers in America in areas of land use and zoning and litigation. In 2007, the Mississippi Business Journal named Hester one of Mississippi's 50 Leading Business Women. In 2008, the MBJ voted her as Business Woman of the Year. She has served as a member of the Leadership Mississippi board of directors and as honorary French Consul for Mississippi.
Within her community, she has served as a member of the Jackson City Planning and Zoning Board and was founding chair of the Greater Belhaven Neighborhood Foundation. She is a past president of the Mississippi Sports Hall of Fame and Museum's board of directors, and she volunteers her time as a communicant of St. Andrew's Episcopal Cathedral in Jackson.
Hester has remained loyal to her alma mater with her time, talents and treasure. She is a member of the Lamar Order, and has contributed greatly to the success of the Ole Miss Women's Council for Philanthropy. The OMWC is a unique entity that provides endowed scholarships for its scholars and provides them the necessary tools to be successful with its leadership-mentorship program. Hester is a founding member and past chair of the Ole Miss Women's Council.
William O. Luckett, Jr.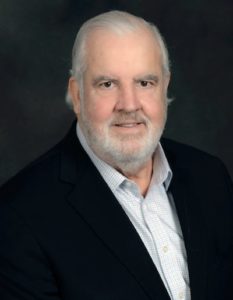 Though he was born in Fort Worth, Texas, Bill Luckett called Clarksdale home since he was six weeks old. After graduating from Clarksdale High School, he made his way to Charlottesville, Virginia. At the University of Virginia, Luckett was on the Dean's List and was president of Kappa Alpha Fraternity. In 1970, he graduated with a degree in American Government and quickly made his way back to his beloved Mississippi. He graduated from the University of Mississippi School of Law in 1973.
He was a member of the Mississippi and Tennessee Bars and was partner at Luckett Tyner Law Firm, P.A. in Clarksdale. During his career, he was a frequent lecturer at attorney seminars. He served on the executive council of the Association of Defense Trial Attorneys, was a fellow of the Mississippi Bar Foundation, and taught classes at the Ole Miss law school. Loyal to his law school, he provided support as a Lamar Order member. He earned Martindale-Hubbell's highest rating in legal ability and ethical standards. Since 2012, he remained listed as one of Mississippi's top attorneys by Super Lawyers.
Though he had extensive experience in the legal field, he is remembered for much more. He produced and acted in dozens of films, many of which took place in the Mississippi Delta. He worked tirelessly on Clarksdale's revitalization efforts, spending countless hours speaking to civic clubs and tourist groups promoting the Delta. He was an entrepreneur, establishing businesses to attract tourists. Most notably is Ground Zero Blues Club, which he owned with his dear friend, Morgan Freeman. He was on the board of directors of the Mississippi Hospitality & Restaurant Association, was president of Bayou Bend Golf & Country Club, was president of the Burke Hunting Club and was secretary of the Tallahatchie River Foundation, a non-profit organization supporting education in the Mississippi Delta. He served on the North Mississippi Advisory Board for Regions Bank and was on the professional advisory board for ALSAC, the fundraising and awareness association for St. Jude Children's Research Hospital. Additionally, he was Mississippi's representative on the executive committee of the Mississippi River Cities & Towns Initiative. He chaired Coahoma Community College's annual scholarship golf tournament for several years and in 2002, was awarded an honorary degree from the institution.
Luckett's passion for the state of Mississippi and the Mississippi Delta ran so deep, he briefly got into politics in an effort to use his skills and knowledge to make positive changes. In 2011, he made a run for governor. Two years later, he was elected mayor of Clarksdale by a landslide.
He was also an excellent pilot with more than 3,000 hours logged in a Cessna 414 and a Cessna Citation S II. In 2009, he was inducted into the Living Legends of Aviation. In 2007, Delta State University honored Luckett as their Delta Regional Heritage Champion. The Community Foundation of Northwest Mississippi, in 2008, named him their Man of the Year.
Luckett was a Lifetime Member of the NAACP. In 2005, he was named the May Fest Trailblazer of the Year for his countless contributions to diversity and racial reconciliation. He proudly served his country as a member of the Army Reserve and was a member of St. George's Episcopal Church in Clarksdale. Bill's greatest legacy, however, is his wife of 36 years, Francine, his children, Oliver Luckett, Whitney Luckett, Park Dodge and Douglas Dunavant, and his grandchildren.
Geraldine H. Page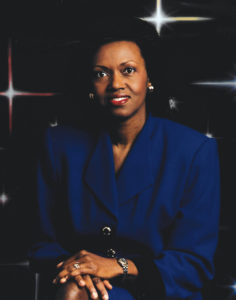 Geraldine Page and her twin sister were born in Louisville, Mississippi, as the youngest children of a mother who was a school teacher and a hard-working father who, among other occupations, worked as a church janitor. After completing high school, she attended Jackson State University where she worked in the library to help pay tuition. Upon early graduation in 1967, she taught 11th grade English for three months at Higgins High School in McComb.
Page, however, was not destined to follow in her mother's footsteps as a teacher. She applied to and was accepted into the Peace Corps to serve as a volunteer in Tunisia. Her college professor discouraged her from accepting the assignment and arranged an interview with professor Michael Horowitz, who recruited her to attend law school at the University of Mississippi. She returned the plane ticket to the Peace Corps, ended her teaching job at Higgins High School, and made her way to the University of Mississippi School of Law as a student. Page became the first African-American to be awarded membership on the Moot Court Board.
In 1970, she graduated from law school and landed her first job as a staff attorney with the Lawyers' Constitutional Defense Committee (LCDC) in their New Orleans and Jackson offices. LCDC provided legal assistance to those fighting for civil rights in the 1960s and litigated cases involving claims of discrimination. When LCDC closed its Mississippi office, Page applied to and was hired as a staff attorney with Community Legal Services in Jackson, where she handled litigation and legal matters for those who could not afford to pay legal fees. She later became deputy director and acting executive director of that office before departing on maternity leave and starting a private practice. She later worked as a staff attorney in the Lexington office of North Mississippi Rural Legal Services. Weary of the commute and separation from her family, she accepted a job as a staff attorney with the Department of Public Welfare's Child Support Division in Jackson, where she prosecuted child support cases against recalcitrant fathers.
Her career turned to the academic arena in 1981 when she was hired as special assistant to the chancellor at the University of New Orleans. She also served as an adjunct professor, teaching "Media and the Law" to UNO students.
After leaving UNO, she entered private practice in Louisiana and worked on a friend's successful judicial campaign. In 1984, Page began her federal career as a trial attorney with the U. S. Equal Employment Opportunity Commission (EEOC), where she advanced to the position of senior trial attorney. She litigated cases involving claims of discrimination in the private sector. She then became an administrative judge with the EEOC where she adjudicated complaints of discrimination brought by postal and federal employees in Louisiana. She was later appointed as an administrative law judge with the Social Security Administration, where she conducted hearings and adjudicated appeals from denials of social security disability benefits by claimants in Louisiana, Virginia and Wilkes-Barre, Pennsylvania. In 2007, she was appointed to a management position as the Roanoke Hearing Office Chief Administrative Law Judge (HOCALJ). She served in that capacity from 2007 to 2011.
Page retired from federal service in 2020. She now enjoys spending more time with her children and grandchildren. She looks forward to returning to her favorite hobby, singing in acapella choruses and quartets.
Lucius F. "Sandy" Sams, Jr.
Sandy Sams was born in Meridian and later moved to West Point. Following high school graduation, he made his way to Oxford to attend the University of Mississippi. As an undergraduate, he was a member of Phi Delta Theta Fraternity, was a Carrier Scholar, a member of Omicron Delta Kappa national leadership honor society as well as Phi Kappa Phi honor society. In 1961, he graduated with a bachelor's degree in history. Sams then enrolled in the Ole Miss law school, where he was editor-in-chief of the Mississippi Law Journal, was a member of Phi Delta Phi legal honor society and Phi Alpha Delta, the nation's largest law fraternity. In 1963, he graduated from law school with honors, earning the distinction of the 1963 Outstanding Law Graduate and was honored with the faculty award.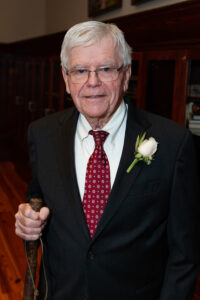 Sams proudly served his country as an Assistant Staff Judge Advocate in the U.S. Army XVIII Airborne Corps at Fort Bragg, North Carolina. Upon completion of his military service in 1965, he returned to his hometown of West Point to practice law. In 1971, he moved to Tupelo to begin his career with the firm that was once called Mitchell McNutt law firm. Within this firm that would later become Mitchell McNutt & Sams, he practiced primarily as a litigator.
Sams put great effort into his legal career, and his acknowledgements are many. Since 1983, he has been listed in The Best Lawyers in America, which named him Lawyer of the Year in 2014 in the area of Commercial Litigation in Tupelo. He has a preeminent listing with Martindale-Hubbell for ethical standards and legal ability. He has also been listed by Outstanding Lawyers of America and Mid-South Super Lawyers. Sams is a life fellow of the American Bar Foundation, a fellow of the Mississippi Bar Foundation and a fellow of American College of Trial Lawyers. He is a past president of the Young Lawyers Section, the Mississippi Bar, the Lee County Bar Association and the Mississippi Defense Lawyers Association. He has been an advocate with the American Board of Trial Advocates and a trustee with the American Judicature Society. He has also provided service to the American Academy of Health Care Attorneys and the American Law Institute. From 2000 to 2003, he served as chairman of the Mississippi Judicial Advisory Study Committee.
He remained loyal to his alma mater as a life member of the Ole Miss Alumni Association and as a member of the Lamar Order. In 2008, Sams served as chairman of the Lamar Order. Locally, he was involved with the Community Development Foundation and is a past president of the Tupelo Kiwanis Club.
Sams was married to the late Mary Helen for 62 years. Their pride and joy is their sons, Lee and Carr, their daughters, Christie and Margaret, and a host of grandchildren and great-grandchildren.