John Robin Bradley, Jr.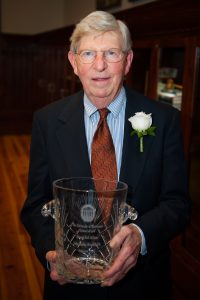 Raised in the Inverness area of the Mississippi Delta, John Robin Bradley, Jr. enjoyed a successful high school career. In addition to being editor of the school newspaper and yearbook, he was regularly elected president of his class. He was also a star athlete, earning 13 varsity letters in baseball, basketball, football, tennis and track.
After graduating high school in 1955, he left the Delta to enroll at Mississippi College in Clinton. There he continued his career as an athlete, playing varsity tennis for the Choctaws. On campus, he was also recognized with multiple honors including being elected president of his class, class favorite and as senior most likely to succeed. It was also at Mississippi College where he met his wife, the former Laura Lipsey. In 1959, Bradley graduated with special distinction from Mississippi College with a major in history and minors in English, German and sociology.
Following their graduation, the two went their separate ways. Bradley moved to New Orleans where he had accepted a scholarship to attend Tulane Law School, while Lipsey made her way to Ole Miss where she accepted a National Defense Education Act scholarship in history. After only one semester at Tulane, Bradley transferred to the University of Mississippi School of Law and promptly wed Lipsey. At the Ole Miss law school, Bradley became a member of the Mississippi Law Journal, the Moot Court Board and was elected president of Phi Kappa Phi, a national honor society. In his third year of law school, he was elected editor-in-chief of the Mississippi Law Journal. In 1962, he graduated from the Ole Miss law school with distinction and earned the faculty award as the outstanding law graduate.
Following graduation, he took a position with Wise, Smith and Carter law firm in Jackson where he focused on regulatory and business law. The following year, he accepted an in-house council position in Yazoo City with Mississippi Chemical Corporation. He would make his way back to Oxford as an instructor in the writing program at Ole Miss.
In 1966, he was persuaded to join the faculty of the law school and began his teaching career that summer, a career that spanned 46 years. From 1967 to 2013, he would teach a contracts class every year, but his expertise became worker's compensation. He is an author of Mississippi Workers' Compensation, a publication often cited by the courts. As a member of the faculty, he served as chair of the committee that hired faculty for at least 15 years. He also served as chair of the curriculum committee during a time when significant changes in legal education were taking place. He also served multiple terms on the Faculty Senate, where he was twice elected president.
Based on his expertise, he was elected as chairman of the Mississippi Workers' Compensation Advisory Council and as chairman of the Administrative Law & Workers' Compensation Section of the Mississippi Bar. He is also a past president of the Lafayette County Bar.
In 2013, law students honored him by naming him teacher of the year. To commemorate his retirement, the School of Law established the John Robin Bradley Award for the Outstanding Graduate and the John Robin Bradley Lectureship for Excellence in First-Year Teaching. Because of his unwavering support for African American students, Bradley was honored as the inaugural Legend Award recipient presented by the Constance Slaughter-Harvey chapter of the Black Law Students Association.
Aleita Sullivan Fitch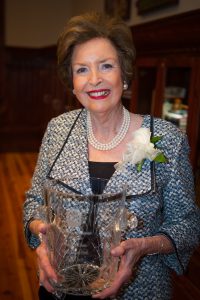 The former Aleita Ann Magee was raised in Simpson County. Her grandfather was one of the original settlers of Magee. In 1959, Fitch graduated from Magee High School and enrolled at Mississippi State University where she had a busy undergraduate career. There she became the first female featured twirler for the Famous Maroon Band. She served as treasurer of the Zeta Tau Alpha sorority and was voted a campus favorite. She was a member of the debate team and Phi Alpha Theta and Pi Kappa Delta honor societies. Fitch was also a member of Cardinal Key, an honor society that focuses on service. In 1962 she graduated from Mississippi State with a bachelor's degree in political science and history. She completed her undergraduate education in only three years, and without taking summer school classes.
In a time when women were not common in the law school student body, Fitch enrolled as a student in the University of Mississippi School of Law. As a law student, she was a member of the Mississippi Law Journal and was secretary of her third year class. In addition to her studies, Fitch started her family as a law student. She became a mother when she gave birth to daughter Wesla just months before her first year. Almost two years later, daughter Sonya was born. In 1965, Fitch left Oxford with her J.D. degree, a 2-year-old and a 7-month-old in search of employment.
Fitch quickly learned that a female lawyer in 1965 had limited opportunities for employment. It was also difficult for a woman at that time to find a mentor who could assist with her career path. With so little options available to her, Fitch made a bold and courageous decision to return to Simpson County and open her own practice in Mendenhall. Over the next 50 years, she would provide outstanding legal service to the rural area of Simpson County and surrounding areas. She became a champion of civil rights when she took on the task of overseeing the integration of public schools in Simpson County. She also became one of Mississippi's leading authorities on family law. In one of her more notable cases, Ferguson v. Ferguson, the standard for property division for married couples in the state was set. This standard, adopted in Mississippi in 1994, is equitable distribution.
Her service to the profession includes serving as Bar Commissioner for the 13th Circuit Court District. She has been president of both the Simpson County Bar and the Four County Bar. Her service to the Mississippi Bar includes terms on various committees, including Ethics and Resolution of Fee Dispute. She has also chaired the Judicial Advisory Committee and served as a Trustee with the Mississippi Bar Foundation.
In the meantime, she became an expert in Angus cattle on her farm in Simpson County. She has been a member of the American Angus Association and served as president of the Middle Mississippi Angus Association. She was also a director of the Mississippi Angus Association. This and her achievements and reputation as a female practitioner of law in the state of Mississippi made her a trailblazer and role model for generations to follow.
Harold D. "Hal" Miller, Jr.
June 14, 1935 – August 24, 2016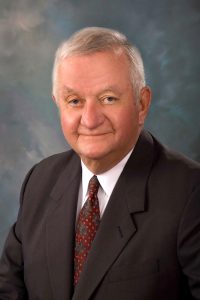 Born in New Orleans, Hal Miller grew up in Jackson. Following his graduation from Central High School, he enrolled in Millsaps College in 1953. After obtaining his bachelor's degree from Millsaps in 1957, he made his way to Oxford as a student at the University of Mississippi School of Law. During his time at the Ole Miss law school, he was a member of the Mississippi Law Journal. In 1959, he left Oxford with his LL.B. degree to return to Jackson and begin his career in the legal industry.
Following his graduation from law school, Miller was hired by the law firm of Butler, Snow, O'Mara, Stevens and Cannada, where he enjoyed a long, successful career. In 1986 he became the first elected chair of the firm. During his time at Butler Snow, his practice concentrated in the areas of alternative dispute resolution, business, family business organization, public utility, transportation law, administrative and regulatory law, and commercial litigation, including oil and gas litigation. Following his training with the American Arbitration Association, Miller became a master at mediation and arbitration. In fact, he wrote many articles that were published by numerous publications and he taught Alternative Dispute Resolution as an adjunct professor at Mississippi College School of Law. He was an AV-rated attorney by Martindale-Hubbell and was listed in the Alternative Dispute Resolution section of The Best Lawyers in America.
Miller was extremely involved in professional organizations. He was president of the Jackson Young Lawyers and was past president of the Hinds County Bar Association. He was also a member of the Mississippi Bar and of the Bar's Board of Commissioners. Hal served as President and Fellow of the Mississippi Bar Foundation and was a member of the American Bar Association. He was Past President of the Transportation Lawyers Association, former Chairman of the Mississippi Law Institute and a member of the Mississippi Oil and Gas Lawyers Association. He was also the first Chairman of the ADR Section of the Mississippi Bar and was Chair of the Court Annexed Mediation Committee. For his law school, he served as Chairman of the Lamar Order, the school's fundraising organization.
Outside of the legal profession, Miller was a dedicated member of his community. He took on many duties at St. James' Episcopal Church. Among them was service on the Vestry as Junior and Senior Wardens. His was also past president of the Country Club of Jackson.
His hard work did not go unnoticed. In 1988, the University of Mississippi School of Law named him its Alumnus of the Year. He was also awarded the Mississippi Bar's Distinguished Service Award for his six years as chairman of the ADR Committee and for serving as chair of the Mississippi Bar Ethics Committee. In 2012, he was awarded the Mississippi Bar Lifetime Achievement Award.
Hal and his wife of 59 years, the former Dot Huddleston, have three children and a host of grandchildren and great grandchildren, who affectionately knew him as "H."
Edwin Lloyd Pittman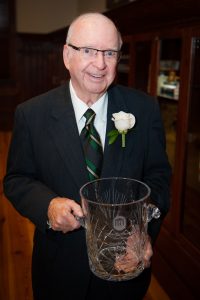 Ed Pittman was born in Hattiesburg, where he attended the public schools. After high school he enrolled in the University of Southern Mississippi. In 1957, he graduated from Southern Miss with a degree in history and government. From there, he made his way to Oxford and the Ole Miss law school and became a part of the illustrious 1960 class, the only class to gather every spring for Law Weekend and with an endowed scholarship in its name.
Following graduation, Pittman made his way back to Hattiesburg where he began practicing law. Throughout his career, he practiced in Hattiesburg and in Jackson. It did not take him long to get into the arena of public service, a career that would span almost four decades. During that period, he served with distinction in Mississippi's legislative, executive and judicial branches of government. In 1964 he joined the Mississippi Legislature when he was elected to serve as a senator. He held that post until 1972. He then served as state treasurer from 1976 to 1980. In 1980, he was elected to serve a term as Mississippi's secretary of state. In 1984, he won an election to serve as the state's attorney general. In 1989, his career with the state's Supreme Court began when he was elected to serve as a justice. In 1998, he moved up the ladder serving as presiding justice. Ultimately, in 2001, Pittman would become chief justice of the Mississippi Supreme Court.
Pittman not only gave service to his state but also to his country, serving 30 years in the military. By the end of his military career, he retired from the Mississippi National Guard as a brigadier general. He was also active in professional associations. From 1985 to 1987, he was a member of the National Association of Attorneys General Executive Committee. In 1987, he was chairman of the Southern Conference of Attorneys General. He held memberships in the Mississippi Bar, the American Bar Association and the Mississippi Bar Foundation.
Pittman has a great record of support for education. In addition to faithfulness to his law school class, Pittman has remained dedicated to his undergraduate alma mater. At the University of Southern Mississippi, the Edwin Lloyd and Virginia Lund Pittman Scholarship is annually awarded to a native Mississippian. The Mississippi Association of Educators presented him the Humanized Education Award for 1982-83. In 1989, the university presented him the HUB Award for outstanding contributions to the community and dedication to public service. Southern Miss has honored Pittman by inducting him into the University of Southern Mississippi Alumni Hall of Fame.
S. "Soggy" Sweat, Jr.
October 2, 1922 – February 23, 1996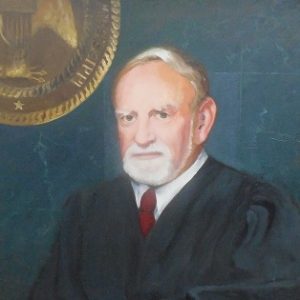 A native or Corinth, Noah Spurgeon Sweat, Jr., affectionately known as "Soggy," attended public schools in Corinth. Following high school, he enrolled at Ole Miss where he became extremely involved in student life. During his time as an undergraduate, he was a member of Sigma Chi fraternity, the Ole Miss Band and was a cheerleader. He got an early taste of politics as he was elected to serve as a class representative on the Associated Student Body. In 1946 he graduated from Ole Miss with a degree in business administration and promptly enrolled in law school. During his time in law school, he became a member of Phi Alpha Delta, the largest coed law fraternity in the United States. In 1949 he earned his LL.B. degree from the University of Mississippi School of Law. He would go on to obtain an LL.M. degree from George Washington University. From there, he studied at the Academy of International Law at The Hague and at the University of Paris Law School. In addition to his studies, he was a World War II veteran.
As a law student in 1947, Sweat was elected to serve as a member of the Mississippi House of Representatives. He would serve one term in the House. At the end of that term, in 1952, Sweat would deliver what is now his internationally famous "Whiskey Speech." Following his term in the House, he returned to Corinth to become a prosecuting attorney for Alcorn County from 1953-55. In 1955, he served as district attorney for the First Judicial District. In 1962, he became circuit judge for the First Judicial District, a post he would hold until 1970. During his tenure as Circuit Judge, he trained at the University of Colorado National College of State Judiciary.
In 1970, Sweat made a career change when he resigned from his third term as circuit judge to become a professor of law at his alma mater. His impact on the University of Mississippi School of Law was immediate as he founded and directed the Mississippi Judicial College in 1970. This program was the first full-time state judicial education program in the nation. Sweat would also found and direct the Mississippi Prosecutor's College and found the nation's first baccalaureate degree for court reporting. He also served as the director of the Mississippi Criminal Justice Institute. Sweat's legacy lives on as today the Mississippi Judicial College provides continuing legal judicial education and training for supreme court justices; court of appeal judges; chancery, circuit, county, justice and municipal court judges; youth court judges and referees; and court administrators, court clerks and court reporters.
Sweat also provided service to his community. In Corinth, he was president of the Chamber of Commerce and the Rotary Club. Within two years of his faculty appointment, he served as president of the University of Mississippi's Law Alumni Chapter's board of directors. He served in leadership positions with the American Bar Association and the Mississippi Bar. He was an active member of the American Judicature Society and was faculty advisor to the National College of State Trial Judges. He also provided leadership to the Conference of Mississippi Judges, the First National Conference on Administration of Justice in Rural Courts, the national State Court Visitation Study Project and served as a consultant for the Institute for Court Management and the Law Enforcement Assistance Administration.
For his impact on legal and judicial education, Sweat earned recognition. In 1984, the Mississippi Legislature adopted a concurrent resolution commending Sweat on his accomplishments and contributions to the state of Mississippi. In 1986, the Mississippi Bar honored him as the second recipient of its Lifetime Achievement Award.